SCIT Induction Program for new batch of MBA(ITBM) | Blog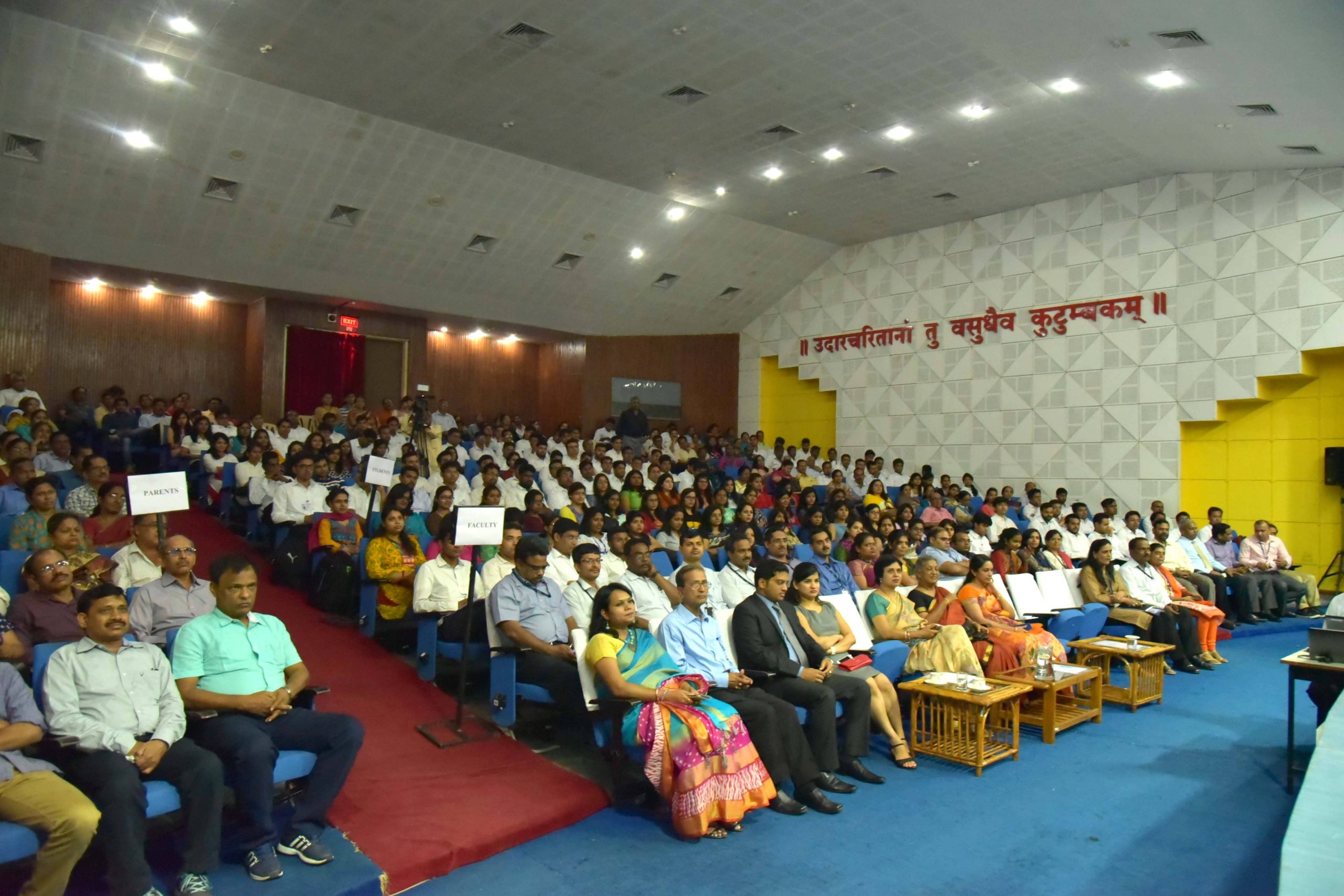 Another day, another afternoon, a new year in the academic life of SCIT began on June 1st 2016.
We had an SCIT Alumnus Esesve Digumarthi, Founder & Director-EnH as the Chief Guest for the induction programme. We also had the August presence of Dr.Vidya Yeravdekar, Principal Director- Symbiosis and Dr.Rajani Gupte, Vice Chancellor Symbiosis International University. They passed on the message to students on various aspects of institute life and urged them to become better human beings.
While welcoming the new batch as a Director, I emphasized on few focus areas for the students that might help them in shaping their personality.
What is education? It is the manifestation of perfection already in man as quoted by Swami Vivekanda. Our chancellor many times quotes Vivekananda on his idea of education. Education should create innovation in the mind, passion in the belly and compassion in the heart. Education should make you feel more alive. We may ask a few questions to bring this point home. What are your inner strength? Where will you add most value? How do you measure your life? To answer these questions you have to look into your elements like talent, passion, values and skills and expertise. These intersects to give the measureable outcome that is the purpose of life. The purpose of life is a combination of four aspects. In other way it is the side effect of your actions in achieving your goals. It is the ripples that are created in your environment and the positive ripples that you create are the values that last for long time. Education must help you develop these. At SCIT we hope you develop these in the next two years.
Everyone wants to be a successful person. Stephan covey's formula for success says one must move from dependence through independence into interdependence. Being proactive, having a goal in the beginning and prioritizing will take you from dependence to independence. But it is thinking win-win, always seeking first to understand others than wanting others to understand me and synergizing that will take you to interdependence. A good manager practice all these continuously. He will also update himself regularly, understand his inner strengths and also help others in finding their strengths.
Always remember three things. Practice discipline and discipline is to enable you and not to restrict you. Develop the right attitude and have humility, confidence, patience and caring and it will definitely help you to go higher. That means what is inside you that will help you in going up. Always remember those who have helped you pack your parachute. They are the people who have helped you fly higher. Keep in mind that your life tomorrow will be the results of your attitudes and the choices that u make today.
A warm welcome to all new SCITians! All the best for your two years stay at SIC Campus.
Dr.Dhanya Pramod
Director-SCIT