Know what an MBA in Data Sciences and Data Analytics holds for you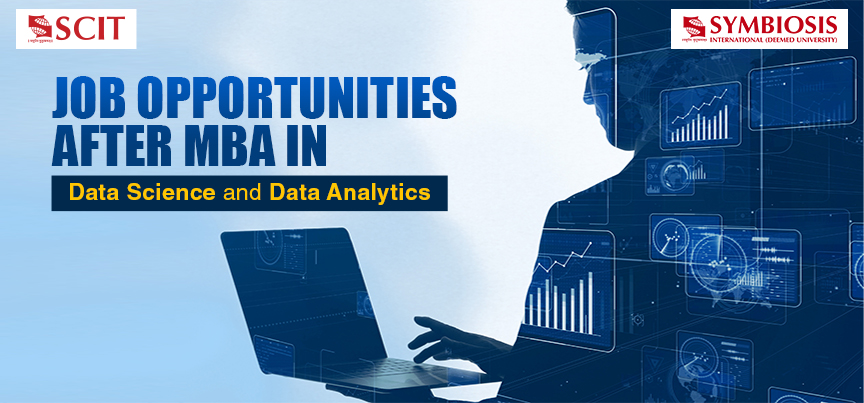 Over the years, big data has become a significant component of the tech industry. With an extended shift in the world of data science and data analytics, the industry is foreseen to grow seven times in subsequent years. To thrive in today's business landscape, it's essential to evolve and embrace the progressive transformations in the industry. According to a report generated by Forbes, about 1.7 megabytes of new data will be produced every second for every human by 2020. With such a tremendous amount of data produced every second, the main challenge for any organization is to collect, examine, and segregate data.
An MBA in Data Sciences and Data Analytics offers a unique combination of strategic actionable insights and real-time operational intelligence which is the essence of this domain. Aiming to hone both managerial and technical skills in students by providing hands-on experience with various tools, an MBA in this domain prepares them to take up techno-functional roles in the future.
Listed below are some of the most sought-after job profiles after an MBA in Data Sciences and Data Analytics-
Big Data Analyst–
Typically involved with analyzing and utilising large datasets, big data analysts are responsible for interpreting data and turning it into information to improve business performance and decisions. They work alongside the management team to establish business needs and identify trends in data sets. Besides collecting and interpreting data, they are also responsible for providing quality assurance of imported data and processing confidential data and information. The average annual salary of a big data analyst in India is approximately Rs. 7 lakhs, according to Glassdoor.com.
Data Architect–
Responsible for building and maintaining an organization's database, data architects design and execute efficient database solutions and models to collect and retrieve company data. They install and configure information systems to ensure seamless functionality and analyze structural demands for new software and applications. Data architects are also responsible for setting up security and backup procedures. According to Glassdoor.com, the average annual salary of a data architect in India is about Rs. 17 lakhs.
Business Analyst Manager–
Business analyst managers are responsible for coordinating with the IT teams to identify limitations in business processes and prepare designs for functional specifications. They analyze existing business processes and recommend improvement methods for the same. Involved in developing project plans and ensuring that the same is executed, business analyst managers also monitor the lifecycle of projects to identify and provide solutions to hindrances. According to PayScale.com, the median annual salary of a business analyst manager in India is about Rs. 20 lakhs.
Market Research Analyst–
The primary responsibility of market research analysts is to monitor and forecast market trends to examine potential sales of a product or service. They do so by devising and evaluating processes for collecting data such as surveys, questionnaires and polls. They examine the data they've collected and organize the information into statistical tables and reports. Market research analysts are also responsible for measuring the effectiveness of marketing campaigns and strategies. As per PayScale.com, the average annual salary of a market research manager in India is approximately Rs. 8 lakhs.
Business Intelligence manager–
Business intelligence managers are responsible for preparing architecture for data and strategies to provide business solutions as per requirements. They analyze complex business data and identify demands for business enhancements. Also, they are responsible for ensuring compliance with all business models according to data standards. A business intelligence manager manages all data for transactional sources and develops effective reports to improve business efficiency. As per Glassdoor.com, the average annual salary of a business intelligence manager in India is about Rs. 17 lakhs.
Data Scientist–
Usually responsible for preprocessing, examining and verifying the integrity of the collected data, data scientists enhance the data collecting methods to include information that is suitable for building analytic systems. They analyze large amounts of data to identify trends and patterns by using predictive models and machine-learning algorithms. By collaborating with engineering and product development teams in the organization, data scientists propose strategies to face business challenges. According to Glassdoor.com, the median annual salary of a data scientist in India is approximately Rs. 10 lakhs.
With the data industry observing tremendous growth, one of the challenges faced by companies is the dearth of professionals with expert data and analytical skills. As per a report generated by RJMetric, in 2015, there were between 11,400 and 19,400 data scientists worldwide. The gap between the demand for skilled professionals and talent for the same has increased the number of jobs available in this domain. However, an MBA in data science and data analytics equips students with the most in-demand abilities and technical knowledge by offering hands-on learning experience. The course programme nurtures students with the right skills, thereby opening several rewarding career options for them.