Why Should SCIT be your ultimate choice of college for an MBA in IT and Data Analytics?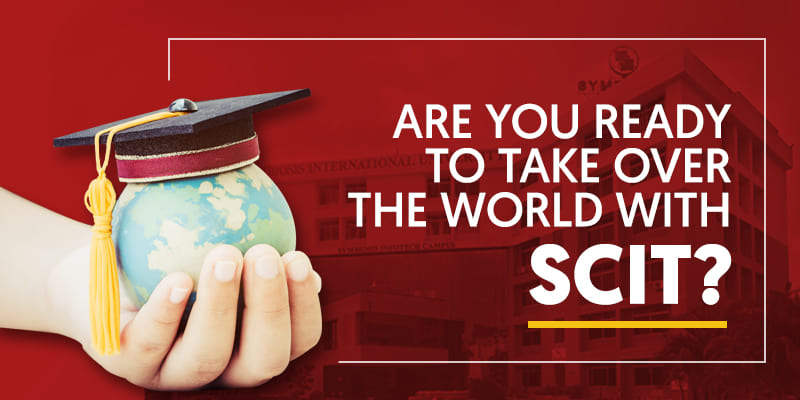 Did you know that the data analytics industry is expected to grow eight times more by 2025? The information technology industry has already seen massive growth in the year 2019 and aims to generate business worth Rs. 350 billion US dollars by the year 2025. Do you know this means the industry will need more experts and will have more job opportunities?
As technology is evolving every minute, most businesses are adopting technologically advanced ways of functioning. The caliber of technology is beyond one's imagination. It can change, enhance, and bring umpteen possibilities to a business. As new technology is coming in, the need of the hour is having employees with detailed knowledge of the technicalities and handling all of it.
Data and Technology are ruling every industry. There's no confusion about why one of the most popular courses now is an MBA in Information Technology and MBA in Data Sciences and Data Analytics. Young professionals are leveling up in their careers with an advanced course to become an asset to their company. Newly graduated students who are trying their best to reach their goals of getting the dream job are also applying for an MBA in IT or Data Sciences and Data Analytics.
To pursue such a complex subject, one needs to be trained under experts. Symbiosis Centre for Information Technology is not only the answer to your questions about this course but is also a solution for the businesses. The college hosts courses that are designed to match the current needs of the industry.
Why do you need an MBA in IT or DS/DA?
With advancements comes a lot of complexities and challenges that the business might face. To make sure data security, technology functioning, and productivity enhancement are in place, the business will need an expert.
Only a graduation degree will not help you achieve the expertise that the businesses are looking for in their candidates. The advanced learning will help you gain a better understanding and a managerial post. Exciting! Isn't it?
We are looking and moving towards an era that is huge on data and technology. A popular business arsenal that needs to be handled by the experts only. If you want to be among them then an MBA which is an advanced course of a subject is downright important for your career progression.
Why is data analytics important in today's business world?
Believe it or not, today's world is completely data-driven. Every business needs to understand the nitty-gritty of their functioning. To understand what brings profit, what impresses the customer, and how can the business flourish, studying data has now become a necessity.
Data study is complex but helps study algorithms of various platforms and decode ways to enhance performance. From advertising firms to educational institutions, big or small, everybody is using data analytics to run their business.
No wonder the demand for skilled professionals in Data Analytics and Data Sciences is rising every day across the globe.
Why is Information Technology important in the business sector?
In today's digital world, information technology is almost the hero of the business. Being the backbone of all functions, IT has now changed the way all businesses work. From research to execution, the involvement of technology is tremendous. Many businesses have changed the employee experience by incorporating IT transformations.
Through information technology, all the businesses can successfully increase efficiency, enhance communication, bring more sales, streamline execution, and bring more security. IT has also improved employee engagement by introducing tools for everything. From sharing a file with a colleague to scheduling and planning the business, IT covers everything. Life has become simpler.
The IT sector is one of the largest sectors in India that contributes to the country's GDP in a big way. It employs millions of young professionals and plays a big part in the job market.
Why choose Symbiosis Centre for Information and Technology(SCIT)?
It is needless to say that to learn such a complex subject and to make sure to get the job of your dreams, you will need an expert to guide you through. SCIT is one of the premier institutes that are known for their quality education.
They aim to train talents who have a knack for IT and Data related knowledge. Not many colleges have the caliber to educate young minds in the area of Information Technology and Data Analytics involved in businesses. SCIT is a pioneer in hosting a comprehensive industry-driven MBA course in IT and Data Analytics/Data Science.
For more than a decade now, SCIT has given various organizations talented IT professions, trained to be at the top of the game. Many have achieved their dream of being in a managerial post after completing their MBA from SCIT.
The course is an amalgamation of constant innovation, knowledge from the experts, and encouragement to grow beyond the classroom. The curriculum is planned very thoughtfully, ensuring that every student is a techno-manager with quality knowledge. The whole purpose of the courses is to train students for IT services and management responsibilities.
SCIT is not just a vague promise but a way to a better career!
An overview of the courses you can apply in SCIT.
The two courses that are designed with the latest and industry-focused subjects are MBA in Information Technology Business Management and MBA in Data Sciences and Data Analytics.
Two very detailed and competitive courses that change your career for the good. Let us understand the specializations that are available to enable you to make the right decision.
Systems– This aims to train the students to create technological solutions to execute and run the business.
Information Security Management– Keeping in mind the explosion of technology and data in every business, this subject is for the ones who will be handling and safekeeping the secrets of the business.
Software Solutions Management– From handling processes to project management, this specialization aims to make professionals capable of managing the solutions that the business is using to function better.
IT Infrastructure Management– As we have already mentioned earlier, IT infrastructure is the backbone of the business. To handle and look after the backbone the organizations need nothing but experts. Here the student is trained to be able to manage and apply relevant knowledge.
Data Science– The study of algorithms, codes, and much more. To be able to make data-driven decisions one needs to understand the complexities of how to study the data available. If you are interested in learning the perfect ways of running the business then this is the specialization that you need to choose.
All this sounds interesting to you? Are you the tech-freak who wants to know the enticing world of technology? SCIT is the answer to your question!
If you are looking for opportunities that are capable of changing your career then look no further and apply today to the best college in the country.