Guest Lecture on Latest Information Trends in the Market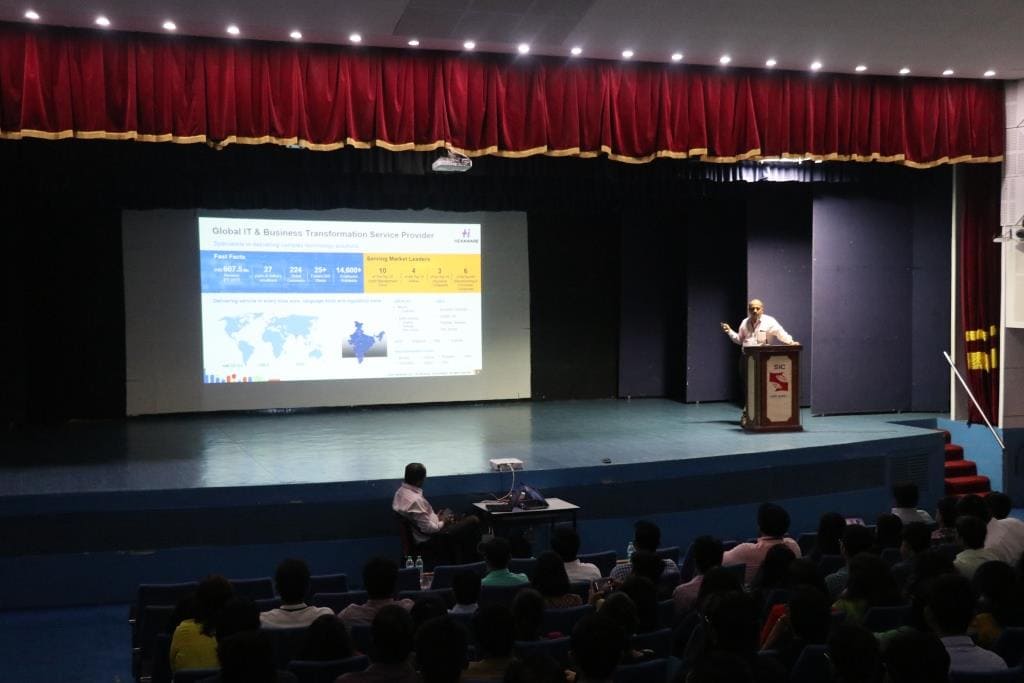 A guest lecture was conducted on 12th July by Hexaware Technologies. Mr. Satish Warrier and Mr. Maria Bellarmine Peter Raj provided insights on 'Latest Information Trends in the Market'.
Mr. Satish Warrier who has over 30 years of industry experience in multiple domains gave a brief description about the functioning of Hexaware Technologies Limited (HTL) and also about the various services it offers such as, Application Transformation and Management Services, Business Intelligence and Analytics, Digital Assurance, Enterprise Solutions, Digital Customer, Business Process Services and Infrastructure Management Services. They spoke about their mission, which is to transform the way services are delivered alongside their vision which is to continuously amplify human potential through the use of digital technologies. He also spoke about the core functions of the company which include the following:
1. Automate Everything.
2. Cloudify Everything.
3. Transform Customer Experiences.
As the brief introduction came to an end, Mr. Maria Bellarmine Peter Raj, Head of Information Security Governance started a very interactive session by giving the students a glimpse of the 'Threat exploiting Vulnerability', 'Weakness, Vulnerabilities and Security Features', 'SCADA (Supervisory Control and Data Acquisitions) Systems', 'Types of Hacking' and the other security related issues that are predominant in the recent times.
The speaker created awareness amongst the students regarding the Security issues in Smartphones and Electronic Gadgets, also about the illegal access, interaction and inference running around the world in both online and offline modes.
At the end of the session, he gave the students few Success Mantras in Information Security which highlighted the importance of being able to assess the risks associated with every action we perform in order to be a successful security practitioner. He also recommended the use of antivirus software, to block unnecessary software and to ignore pop-ups which are the daily vulnerable holes to the sensitive data and systems. He educated the students to do smart work rather than hard work; as the technology was evolving and it was imperative to be in association with the latest security trends. He also conveyed the importance of Risk Analysis, Security at the backdoor (client) side and the Big Brother of Data Protection, GDPR (General Data Protection Regulation-EU).
The session concluded with the speaker throwing light on the growing importance of information security and the various opportunities that come associated with the field.
– Compiled by Dhruti Luhar