Role of Digital Evidence in Cyber Crime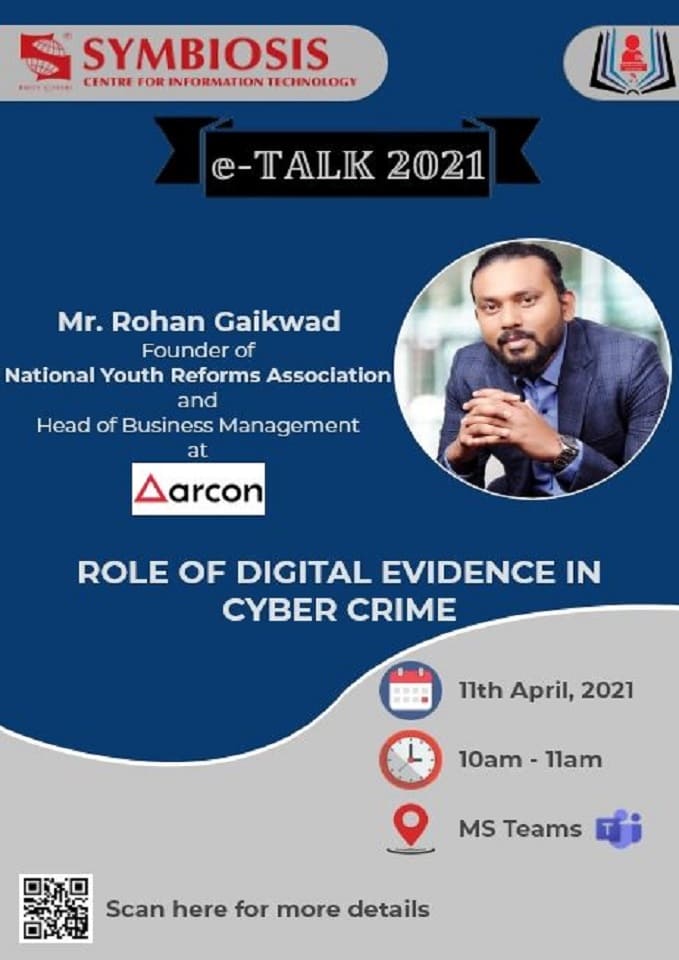 A guest lecture on the topic "Role of Digital Evidence in Cyber Crime" was conducted on the 11th April as a part of the e-Talk Series 2021. It was delivered by Mr. Rohan Gaikwad who is the founder of the National Youth Reforms Association and presently working as a head of Business Management at Arcon.
Mr. Gaikwad began his session by briefly outlining the history of digital forensics to the students. After that, he discussed different cybercrimes and their severity as cyber crimes as they are growing at a rapid pace. These crimes, which have no physical or virtual boundaries, lead to severe consequences and risks to victims all over the world. Later he talked in detail about cybercriminals and also the main aim for cybercriminals is to gain access to personal and sensitive information for performing malicious and exploitive activities.
He explained about the top five types of cybercriminals which are social engineers, spear phishers, hackers, rogue employees and ransom artists. He also presented some of the key stats on cyber crimes in India and explained how these figures are rising day by day. To fight against cybercrimes, he brings out the knowledge of the cyber forensic process and the digital forensic investigation process model. Then he emphasizes the elements of the crime which are digital evidence, suspect/victim, and criminal. Then he told us the importance of digital evidence and various sources and types of digital evidence. He also guided the students on do's and don'ts related to the use of information and sensitive data.
He concluded his session by talking about the importance and types of forensic tools. He told us that there is a dire need for awareness on the topic of digital forensics. The talk ended with a quick Question & Answer session where Mr. Rohan answered all the queries of the students and concluded on similar lines.