My 1st Day at SCIT – Premier IT B-School !!!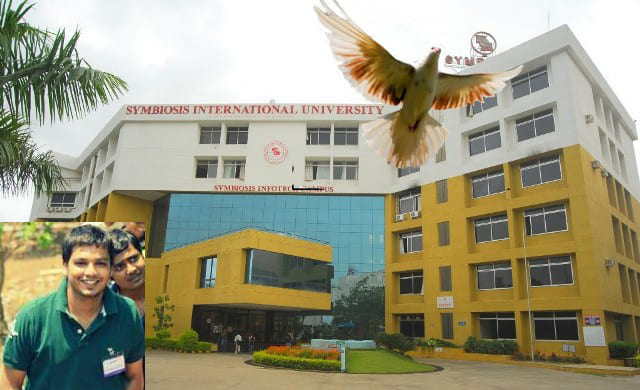 Waiting for more than an #Hour at station for the delayed train, started imposing questions on GOVT, SYSTEM, INFRASTRUCTURE and all the ill things India as got, but with the blink of eye, thought was #MBA at #SCIT #Pune. The Premier IT B-School, I dreamt of.
Train was late by 84 mins till it reached #Surat, feeling was Y??? It's late Today (sad). But as the law of Nature states that  "u will really get things done, when u really really and really want that thing to happen". Due to train drivers grace it covered all the delayed time and touched #Pune on time at 4.50 a.m. I was accompanied with my dad. We took auto, had a cup of tea with auto driver and he introduced all the places which came in way to #SCIT, Hinjewadi. We reached the "D" Hostel at 6.30 a.m., completed the registration process and finally #Bhau/#Dada gave me the #key for my #NewHome (i.e. D-906) for next 2 yrs. Roomie #sid greeted us, we chatted, laughed for long and finally I could make out that I got the #Best #Roommate :).
"5th June, 2014" is the day I will remember through out my life, the day I stepped inside My Campus #SCIT "Place Of Wisdom". The curiosity was at its Zenith to know our fellow mates, faculties, staff and so on. I was amongst the 1st few boys to reach at the Assembly hall. Eyes were #Locked at the door to see #Who's coming in ;). Gradually the Assembly hall was jam packed with students, faculty, technical and nontechnical staff. The 1st session proceeded with the address of our Director Dr. Raman . He is the man of #Substance. I would be privileged to work under his guidance. Next was the introduction of faculty, their area of expertise and experience. Courteous treatment was inclined towards the #Peons, #SecurityGuards, #Staff because they are the ones who makes thing happen :). Special treatment was given to Mrs. Savitha Nair Madam #THE #PLACEMENT #OFFICER jointly handled by Mr. Muazzam Khan Sir. The 2nd session was conducted by Col. Kadam Sir, he gave the insights regarding the #Administrative Part and #HostelRules. These 2 sessions, I felt were excellently crafted. I #Laughed , I #Screamed , I became #Learned.
I took Lunch with new faces , got introduced with them. Few were Tamil , Marathi , Gujarati , Bengali , Punjabi, Oriya, Bengali, Kashmiri, Telugu, Malyalam, … (Truly National Integrity ) etc. I never had experience to talk with such varied personalities under #One #Roof (i.e.) #SCIT. I loved the place 🙂 on the 1st day itself.
The 3rd session (i.e.) Model making that, I felt was the Awesomest of all. We were told to make "Roman Launcher" with a given set of raw materials. Groups were made, time was allotted for #Planning (P), #Designing (D) and #Execution (E). HaHaHa can't stop laughing while writing about what happened in P and D part, Out of 40 mins given for the P & D part. Till 38 min we could not plan a single good design to draw in paper. In the last min we had drawn designs, which had no guarantee of its execution. One group member and I presented the design. Now we were in business as soon as the Execution time 45 mins started. My group members and I got serious motivated and wanted to win it anyhow. We had put all the efforts, hard work, and teamwork and finally we made an awesome design. It was called the #Best #Design by Prof. Shaji Joseph Sir. These were the best moments we enjoyed together.
Finally the #Day ended with a dinner and chatting amongst classmates in the playing area with #Cool #Pune #Breeze flowing. Hope every day brings new experience, challenges, fun, excitement, happiness etc. I found myself lucky to be part of SCIT.  "#Mighty #Mighty #SCIT"!!!!! ."#Mighty #Mighty #SCIT"!!!!!