Looking for Jobs – Why not create one?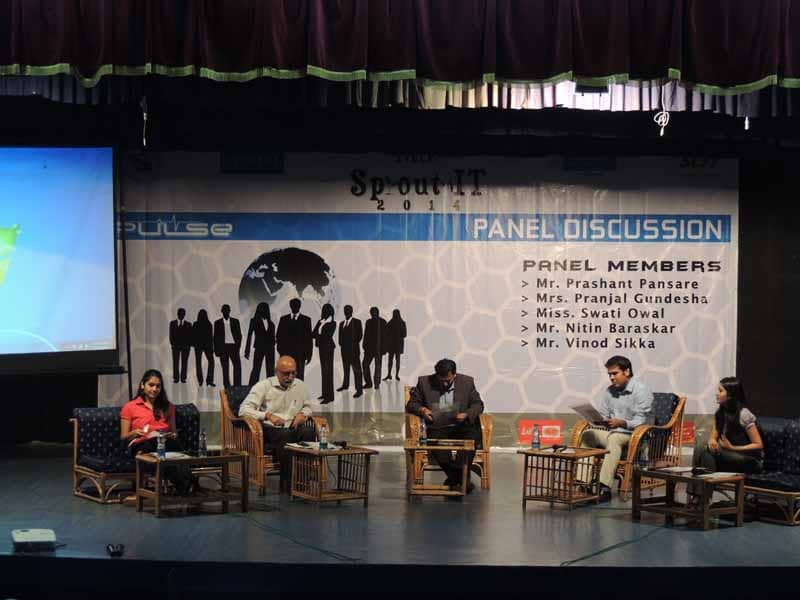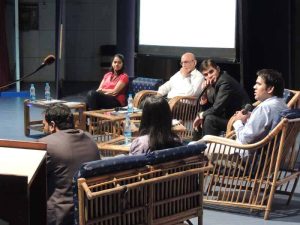 SCIT SproutIT organised PULSE-Panel Discussion, an initiative to nurture future entrepreneurs. Our chief guest Mr. Prasant Pansare introduced the new market to us. This market profiles, monitors and watch us every minute. They study us so very well. Everything that we do or we want, they know it. You must be wondering how this is possible. They use Link analysis-Predictive analysis.
The very next question that comes in our mind is how all this is related to entrepreneurs? An entrepreneur should use this visibility to show their idea to the world. They have to understand the complete ecosystem as it is not just the engine, wheels are equally important to run your machine of idea. If you have an idea, make a master plan-showcase it!
The panel discussion kick started with Mrs. Panjal, Mr. Vinod Sikka, Miss Swati Owal, Mr. Nitin Baraskar starting with the definition of PULSE where P-Plan, U-Unleash, L-Lead, S-Synthesize and E-Evolve.
All the big words that come into our mind while thinking of entrepreneurship were actually discussed here. Following are few of them:-
Observation-Observation starts from oneself. Observe business and society to come up with the most demanded thing.
Attitude- Keep a positive attitude. Take some time to peep into yourself and know what you are good at.
Risk- Take risk in business. Come out and do it yourself.
Motivation-Ask question to yourself- why to do it? What is the motivation behind it, what value the product will add to the customers? Love the idea and sell it to yourself first.
Challenges-Challenges comes with an idea, it is upon us that what should we give priority to, product or services? And also Funding as a challenge is a myth. Money will follow you; you don't have to follow it in entrepreneurship.
Technology- It is a facilitator. It can help one in lots of ways to scale up their product through e-learning or digital marketing. Come up with "zero cost" marketing.
Mentor-One has an idea but inputs come when it is discussed with mentor. Find one person to guide you to put you on the right track. They are certain pillars who can keep your base too strong.
Naming Aspect-It can be Wacky as like Google or Facebook or can be Implicit that is describing your work.
Legal Aspect- They advised to go as Proprietary firm as it is better to keep it simple. There is a doubt of going for private limited or partnership firms but we have to understand that the more legal, the more complex it is. The first thing we must do is to have its copyright or patent it.
We really thank them to have such a healthy discussion to motivate and educate us about entrepreneurship. The ideas and experiences that the panelists shared with students would have definitely sown the seeds of making business out of ideas in the minds of the audience. The panel discussion has fruitfully sown the seeds of entrepreneurship in the minds of the young students at SCIT. Thanks to the ITELF Cell of SCIT for arranging such panel discussions as a part of their Sprout IT' 14.