State of IT 2014, Mobile Device Diversity-Empowerment or End of privacy?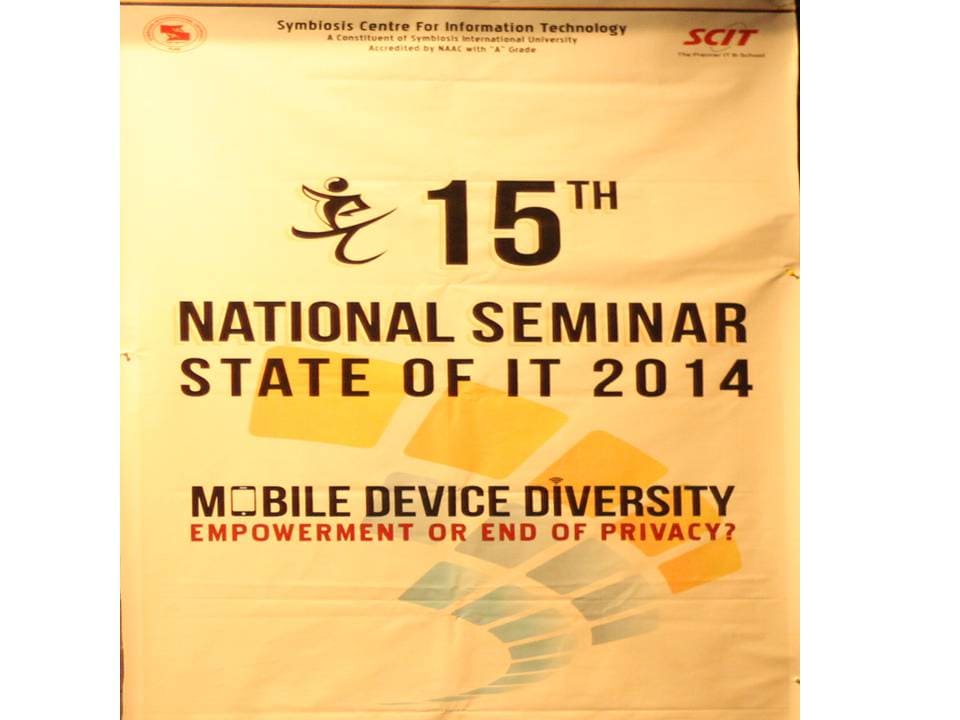 Symbiosis Centre for Information Technology hosted 15th National seminar "STATE of IT 2014 with sub theme on Mobile Device Diversity-Empowerment or End of privacy? " on 27th September 2014.
Ms. Kumud Srinivasan, President Intel India graced the occasion as the Chief Guest and gave her keynote address on Mobility trends and concerns. Mr.Shashikant Pathak, Manager- Pwc was the guest of honor and gave insights on Enterprise Mobility. Dr.Rajani Gupte- Vice Chancellor, SIU addressed the audience with her insights on the topic and also briefed about the initiatives of Symbiosis to stay ahead.
The inaugural session was followed by a very lively Panel discussion moderated by Puneet Bhashin, Founder Cyberjure Legal Consulting. The following experts from mobility and information security domain were actively participated in the discussion.
Ravi Hirolikar, AVP & Heasd, ISRM Infosys
K.K Mookhey, NII Consulting
Aupam Agarwal, Director,Product Business Group, Customer Management Amdocs
Ajit Hatti, Cofounder NULL/Sr. SW Engineer Symantec
Amit Ravankar,Regional Mobility Head-Tata Consultancy Services Ltd
The session was wonderfully moderated by Puneet taking out the best from the line of Panelists. The discussion was thought provoking and gave insights about how organizations are tackling mobility challenges yet meeting the benefit prophecy.  Students were enlightened with insights and had a great value add at the same time they thoroughly enjoyed the session.
Dr.Dhanya
Director SCIT