JAB WE MET — SCIT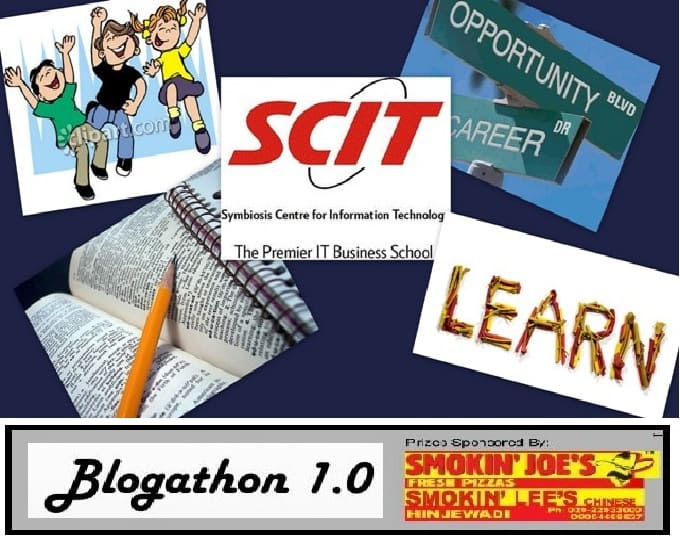 Prior to SCIT
Here I was working in an IT company at Chennai, slogging for more than 8 hrs a day and still without a clear roadmap to my future. It was that period of my life when I was dying to get out of the professional life and eager to enter the profile of a student.
Moreover staying away from my hometown (Mumbai) , made my life all the more miserable. It was during this time I saw a ray of hope when I got my admission to SCIT-a premier B-school under the Symbiosis University. To be honest, my joy knew no bounds and I put in my resignation letter on the very next day and then started the honeymoon period of my professional life-NOTICE PERIOD. Those 3 months were the best period in my professional life. I spent those 3 months dreaming about how life would be at SCIT and enjoying my last few days in Chennai with my office-mates.
Expectations from SCIT
The first and foremost expectation from SCIT was that at the end of  2 years I need to get a good pay package and I am sure all my friends too have the same expectation from SCIT (provided that we all do well in academics and as Dr Raman has said, " It's all in your hands!!!" ).
Then next expectation was a fun-filled college life from SCIT. Really many of us have missed our college the most while we were working in IT companies. We IT professionals used to have a lot of deadlines which was the worst part of IT life. I accept we had deadlines in college life as well but then there was a separate joy in meeting those deadlines. I miss those moments like the last day exam preparation, last day assignment submissions etc. I want to experience all those moments all over again at SCIT.
And of course the next big expectation was the eagerness to know what the world of MBA would look like. I was eagerly waiting to experience what an MBA student goes through during his tenure at SCIT.
Life at SCIT
Dance, Music and Sports
The extra-curricular activities were triggered with the event "Samarambh". And to be frank, I was surprised with the talent displayed by the students and even more surprising was that most of these students were those who had work-experience. SCIT gave a wonderful platform to display our talent in varied fields like dance, music and singing.
Then we had our SCIT foundation day which was again a wonderful ceremony where I came to know about a type of theater play called "MIME". It was an outstanding performance by the seniors and then we had one more surprise in the form of a dance performance by our Finance professor Rashmi Maam and she was awesome in her performance to say the least.
Well SCIT was not far behind when it came to sports. SCIT had organised various sports events like cricket, football, badminton etc and students actively participated. Though I am very sad that the Juniors' team lost to the Seniors' team in both cricket and football.
Academics
The initial two weeks in classes were like complete bouncers for many students including myself. I remember one incident when one of our faculty asked one student (I would like to mention the name of student: Ruhi Raghuvanshi), "Are you getting what I am explaining ?" and Ruhi replied, "Some What!!!!".
Really most of us were in the same situation like Ruhi. Especially, most of us being from the engineering background, Economics and Finance were complete strangers for us during the first 2 to 3 weeks. It is only after a month or so that we as students are getting hold of what is going on in the classes.
Friends
Prior coming to SCIT I had a perception that I will be the best student of SCIT and there will be no one who is better than me. But I was proved wrong because almost every student in my batch is almost at par with me and infact many of my friends are better than me.I have met different type of people in the last few months. Below mentioned are some of the different people that  I have met
Some people who participate in almost all the events like Dhruv, Sourav Roy, Prakhar etc
Some people who are very quiet and calm all the time like Richa Rajput
Some people who are very expressive and talkative in whatever they do like Sourav Roy, Kruti Damania etc.
Some people who study all the time like Aditya Chordia and to some extent myself.
Some people who are conservative and yet have some talent which includes people like me ,Richa,Mahima etc
And still there is one set of people who are unknown to me. It has been a pleasure to meet these type of varied characters and moreover they all are from different parts of the country which makes it all the more interesting.
Me at SCIT
I love it here in SCIT because of my friends who are around me and to a large extent because my hometown (Mumbai) is just 3 hrs away from Pune. The faculty here in SCIT has given me a new dimension about what Finance and Economics is all about. And after almost 4 years I got a chance to perform a solo dance. SCIT is like a perfect competitive market where every student has the same capability and one student alone cannot dictate the market (See I am speaking Economics) .
And yes JAB I MET SCIT…. I have become like the character of GEET (The character Kareena plays in the movie) who keeps on talking about SCIT SCIT and only SCIT.
Allen Kenny
MBA-ITBM SCIT (2012-14)