Lights, Camera and Reactions!!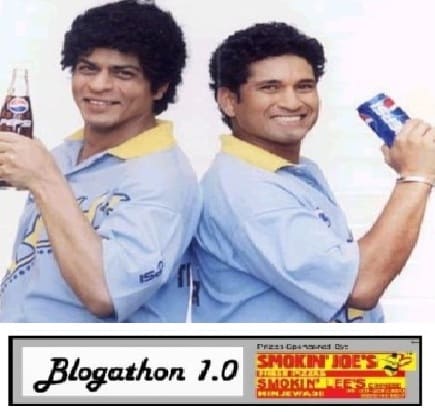 Sitting on a crate, a person wearing the national cricket jersey hits the cricket ball with a stump and then drinks a sip of a popular soft drink. When you are growing up in a cricket frenzy nation you go head over heels when Sachin Tendulkar does something as small as sipping a soft drink. At the age of 9, I never had imagined that one day I will grow up and talk about marketing strategies adopted by different brands while doing my MBA. I always belonged to that small part of the pie chart which represents the people who love watching commercials between shows on television.  As far as my memory goes, it all started with Pepsi's advertisement featuring Sachin. Over the years, the advertisements of Coca Cola, Bajaj scooters, Cadbury, Dhara Oil and Britannia made a lasting impression on my mind. I still remember collecting runs after eating Britannia biscuits to win a trip for the 1999 Cricket World Cup.
The world stepped on the accelerator as we entered into a new century, for me Doordarshan changed to cartoon network and outdoor games were replaced by video games. I spent the first decade of the new century watching television with small breaks for other things in life. Cable TV introduced me to new brands, the advertisements were more catchy and featured new celebrities. If I were to name a few brands which caught my eye during this period then the list would include Airtel (A.R. Rehman music), Mastercard(Tag line),Titan and Nescafe. With each passing year, the brands came out with new products which were supplemented by advertisements with better content. The brand which took my attention away from TV commercials was Amul which always came out with the most innovative advertisements reflecting the times.
My pursuit for higher education brought me to Symbiosis Centre for Information Technology. While doing my MBA I was lucky to attend Srini Sir's marketing lectures who took us behind the scenes of these advertisements when I realized that I was caught in the AIDA cycle since my childhood, Attention-Interest-Desire-Action. I took up quizzing during my 1st year of MBA and since then the thirst for knowing about brands has increased and now it's more than watching television commercials. It has grown to checking the details of every product that I use, sitting in reading room to watch commercials on youtube to observing every billboard from Wakad to Hinjewadi.
May be after few years I will also have my own tagline.
But for now, as they say 'Nothing is too small to know, nothing is too big to attempt'.
Anirudha Ingle
SCIT 2011-2013