GE-PI Experience Blogging Contest – Result!!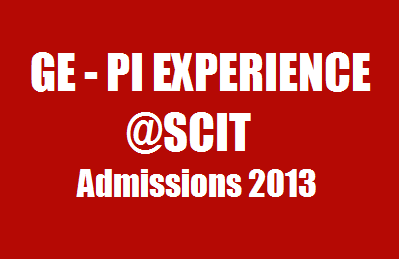 Hi!
The much awaited Result of the GE-PI Experience Blogging Contest are here!
A big Thank You to each and every one who participated and shared their experience of the D-Day with us. Also, thanks for the appreciation on the management of the Admissions Process. At SCIT we strive to do things in the best possible way and it is always nice to hear and read compliments 🙂
Also Thanks to our judge, Prof. Saravan Krishnamurthy for taking out time to assess the blogs and provide his valuable inputs on all the blog posts.
So, the WINNERS are :
Akshay Deshpande (SNAPID: 2006471) : Penning down my thoughts
Deepakshi Vasudeva : First GE-PI(GD-PI) of my life
Varun Roy (SNAPID : 2003875) : A Promulgated Agnostic Resorting to Prayers
Congrats to all the winners!! We will contact you soon for your details for sending out the prizes.
Hope we get to see you on the campus as well 🙂