A Day in SCIT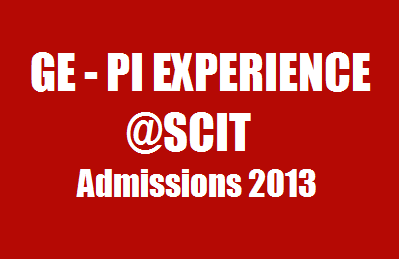 My name is Avinash Soman (SNAP ID =2055193) from Vadodara, Gujarat pursuing BCA (Hons) from Maharaja Sayajirao University, Vadodara and I will be sharing my experience during the SCIT GE PI session that was scheduled on 8th February 2013,
I arrived inside the SCIT campus at 11 AM, by a rickshaw from Autowale as I have learned from my family friends it would cost me unfair fares from ordinary rickshaws. Standing in front of the college I could feel the positive energy and enthusiasm of the senoirs which boosted my confidence into a next level. On entering the building, I was immediately directed to the ground floor open hall by professionally-dressed seniors (hopefully my seniors during the coming SCIT term 2013-15), and was told to be seated there among other nervous candidates like me.There was the video showing about the SCIT and its thrilling and energy full of life. We were called in order, according to the GE PI number specified in our respective call letters from SCIT. Once our IDs got verified, we were given an SCIT folder within which were sequentially ordered forms for the events we were about to face.
The first one was a primary declaration form which we had to fill in order to be admitted. We were taken to a hall with numbered chairs. A screen was facing us once we were in our respective seats.
The senior standing on the dias give us the brief instructions for that day's procedure. Senior also told us to fill the written communication form given to us after that on the screen the instructions were given which was briefed by the energetic senior with a smile which was were pleasant in such tense situation. The topic was Crowdsourcing -A Booming Thing (15 minutes). The topic was quite a unique and techincal one. It took me 3 minutes to collect the points that i have read in past. And started my essay I could feel the tension rising in the hall. On completion, they called random groups to either get their documents verified, or go for the technical and HR interviews or for GE.
They called our group for GE. The first Group Excercise was where the judges told us to indrouce ourselves then they divided our group into 2.Same case study was given each grop. Each one has to select a leader from them, finally choosing a leader to represent our group, in order to deliver the solution that we had all come up with, together. Then each one of us was a given a chance to tell their views on the case. The judges started to fire questions about our opinons. It was a great experience as it was my first GE. While this event was going on they had asked us to place our work experience/extra curricular activities' certificates etc on the table where they could verify them. In our second GE we were shown an image of pendrive in a shape of lock and were given 2 minutes to think about the topic.Each one of us were told to discuss the image. We gave our opinons on what we got from that image. It was a new and different experience for me.After the GE, seniors took us to the hall with the screen. We were provided with snacks and cold drink which was really thoughtfull from the college side as it was a noon time and most of the participants would havent taken the lunch.So I should say it was really a great and good thought and action from SCIT and its students.
I got my documents checked and verified by the authorities. Then the senior voluntered us to the interview rooms.The HR interview came first. The Interviewer was really nice to me and was smiling at me all the time. Interviewerwas very nice to me,Firstly told me to introduce myself asked me how I am feeling reaching here, where I am from and personal details.I was even told to sing a song.The interview went on for 20-25 mins. As it was my first interview I was over the world with great satisfaction and smile on my face. Once outside, I took a satisfied breath, and waited for the Technical round. As I sat in the Technical Interview Room, there were 2 Interviewers. Tey asked me about my graduation, my completed and current projects, and why mba. With confidence i gave them a satisfactory answers. It was great and good experience there.
It was all over and I felt as if i just had a nice small walk in a beautiful garden. i wasnt tired at all because it was 4 – 4.5 hours long procedures.The seniors were very enthusiastic, smiling and encouraging. We were given a tour of the SCIT campus which meets all my expectations and more. I am very pleased that I have opted  for this beautiful college and hoping to get admission hereand praying to Almighty for this.
-AVINASH SOMAN