SCIT students in Extreme Blue™ program of IBM's internship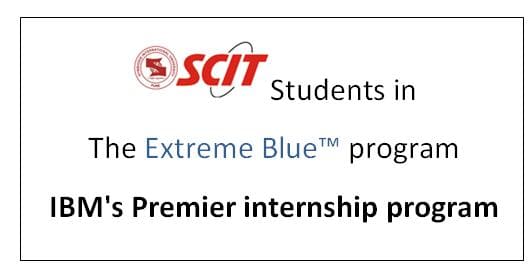 Dear All
The Extreme Blue™ program is IBM's premier internship program for top-notch students from the best if the educational institutions in India. The engineering students are taken as technical interns and MBA students are taken as business interns.
Once selected into the program, the student becomes a part of a team working in one of the 15 Extreme Blue labs worldwide. The team's challenge is to develop the technology and business plan for a new product or service that addresses an existing market challenge.
I am very glad that 2 SCIT students (Ankit Jagetiya  and Smriti Bhat) from the 2011-2013 MBA –ITBM batch have successfully completed the Extreme Blue™ with IBM as a part of thier summer internship
Unlike other intern programs that may relegate a student to work on outdated technology, the Extreme Blue teams work on leading technology that helps them grow their skills and evolve the student into a more attractive candidate in the field of technology management. SCIT interns in this high-performance environment have rolled up their sleeves and have worked with "hot" technologies such as Big Data and Cloud Computing, Web 2.0, and data analysis
I am certainly proud to say "Mighty Mighty – Students of SCIT"!
Dr Raman
Director- SCIT