Prathidhwani 2012- An Enthralling Experience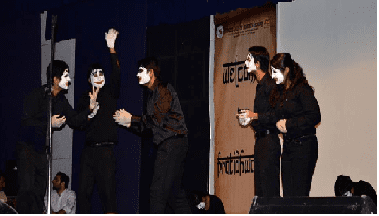 Dear All
It was an enthralling experience to see the students perform during Prathidhwani – 2012 the Alumni meet of SCIT. I would like to mention a few names like  Anish Bane, Amol Thackrey,Keshvi Sharma,Renuka Gorthi,George Mathew , Divya Srinivasan , Chirayu Buch , Ishan Mishra ,  Mrinay Raj Nimsarkar , Saurav Sarkar , Malav Mankad , Rupesh Shrisawande , Ritwika Naskar, Sneha Oraon, Deepali Tyagi,  Prerna Bet, Rachna Sharma, Sourav R Choudhary,  Vikrant Sharma, Sumit Jaiswal, Rupesh, ,Rima, Ankita Kulkarni, Archit Srivastava,  Sumit Nautiyal, Harneet Singh, Clevin, Anil Kumar, Aniket who did a great job in entertaining the 100+ alumni who made it for Prathidwani 2012. Many of you are better than "Professional Singer and Dancers" and you all are multi talented- Keep it up!  I do not have even an iota of doubt in believing that many you will certainly get laurels to SCIT by participating in intercollegiate cultural events.
Jay Magdani  – you did an excellent job in coordinating the entire show- Keep it up! Ms.Savitha Nair as usual you did a great job!
Nikil & Priyanka you both were excellent in compering. I must congratulate the Alumni team comprising of Sree Sharan Sanku, Shruti Bhatt , Jasmeen Rana, Pratik Dighe, Vineeta Maskara, Mani keerthi Nagothu, Neha Saxena, Gopeekrishnan and Karthik who gave their best in making Prathidhwani 2012 a grand success.
Dr R Raman
Director – SCIT