Level up in your career with the best IT business school in the country.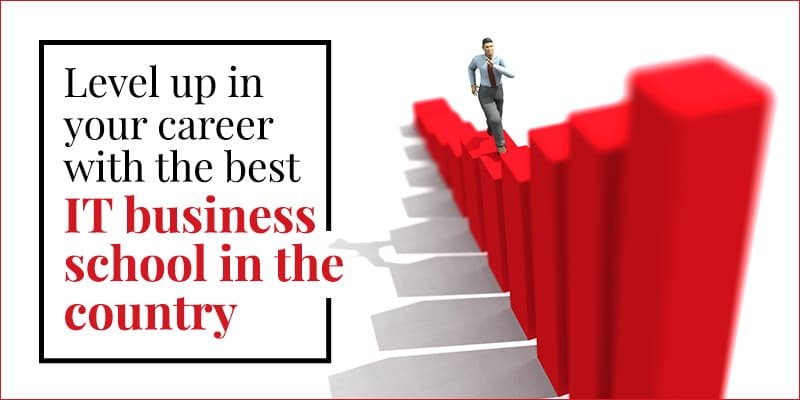 In a world where technology plays the most important role in the development of the country, it needs experts for execution. In today's digital world, technology and data is an essential part of every business. Are you already working in an IT company but feel stuck at the same level? Figuring out what to do next to level up? Then Symbiosis College for Information Technology is your answer.
Why MBA In Information Technology?
Each industry is now evolving and has an extremely competitive environment. Every business needs constant innovation without which growth is impossible. Information Technology is the most conceptual shift that the industry has seen.
This shift has not only brought ease in executing businesses but has also transformed the old ways of thinking. Technology means studying the magnanimous amount of data that is derived from various portals and activities. To study this data rather than the information the business will need an expert.
Only an expert can study and analyze the data and use it for the benefit of the business. Through information technology, you can not study what works for your business but also be able to incorporate new changes successfully.
If you are looking for a course that will help you get to a higher designation that involves managing the business with the help of information technology then MBA in Information Technology is what you will love!
The Growth Of Information Technology In India
India's economy has changed ever since technology came into the picture. It has not only boosted the country's economy but has also transformed the ways of functioning. India's excellent IT industry is now globally recognized.
The IT sector has boomed in recent years, contributing to the economy of the country hugely. It may sound a little unreal in these times but the IT sector has constantly been growing. One of the sectors that chose not to lay off at an insane rate.
Did you know one of the hubs of information technology is Pune among the others like Bangalore, Kolkata, and more? The country has embraced the power of technology seamlessly and it has been the best change in many years. The development of the information technology industry has opened up zillions of opportunities. Most of them also offer very alluring salary packages.
What Are The Roles And Responsibilities Involved In This Industry?
The scope and future of IT in India is as bright as the sun. the growing need for IT in the country is an indirect promise of endless work opportunities. Usually, this department involves a lot of analysis and understanding of the big data available. IT is another name for innovation where constantly new applications are introduced using all the data collected.
From collecting data to organizing it to using it for various business process, all this need an expert. To become an expert you will need the help of more knowledge and a great college. Managerial positions to executives to consultants, there are various roles that you can apply for after completing your course on information technology.
Many young professionals are already working in the IT sector and living the life of their dreams. But did you know that if you don't offer beyond your basic knowledge you might end up being in the same designation for years? Along with the ones who want to start a career in IT, the professionals already working need to learn more too. To get an upgrade in the career, one has to do an MBA in IT where advanced knowledge and skills can be imbibed.
Level Up In Your Career With Symbiosis Centre for Information Technology.
Creative Copy: SCIT – An experience of a lifetime!
Want a course that encompasses a unique combination of business and technology enveloped by knowledge from experts? Symbiosis Centre for Information Technology offers exactly that! From a constantly updated curriculum to match the industrial standards to helpful practical training, the college offers all.
Symbiosis Centre for Information Technology understands the value of your time and interest in learning something so complex. The entire course is planned very carefully, covering every aspect of information technology. Symbiosis Centre of Information Technology exclusively includes six sigma learning to understand process optimization, performance management, resource management, and more such integral functions of a business.
The goal is to incorporate unique ways of learning for students to understand the complexities and be able to solve them as well. At higher designations, you are expected to come up with quick solutions that will manage the crisis. This needs analyzing skills for better and informed decision making.
If you want to learn more about creating innovative technology-driven solutions for crisis situations that a business might face the SCIT is the place. A well-experienced group of faculty members and workshops by industrial experts are obvious here.
A good campus with a great placement cell takes away the worry of getting a good job. SCIT placement cell is one of the most efficient in the country. From internships to jobs, some of the biggest companies from across the industries come to the campus for recruitment.
Some of the prominent features which would aid a candidate for his final Placements at SCIT / level up his career :
Rigorous market-responsive curriculum
Emphasis on current practices & thorough understanding of technologies
A unique blend of IT & Management skills
An exclusive 15-week internship program
Dissertation, pilot projects, and academic research
The Symbiosis College of Information Technology offers an experience, not just a degree!
If you want to give your career a well-deserved boost then apply at SCIT, Today! Change your life forever with a college that only aims to give you the success you deserve.
Visit our website and know more!