Know More About MBA in Data Sciences and Data Analytics.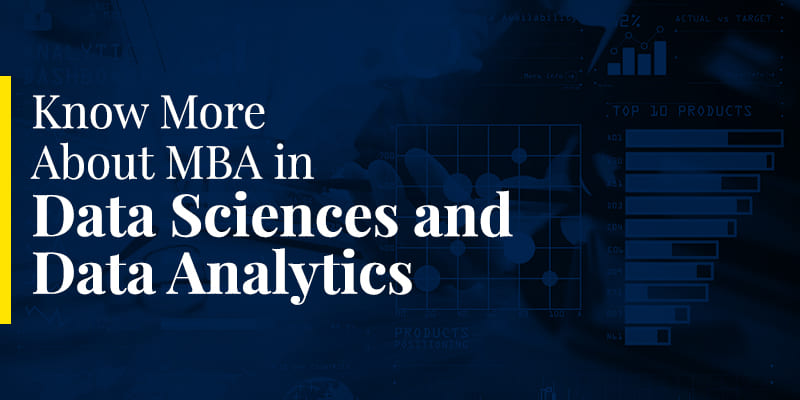 Did you know that Data Sciences and Data Analytics are some of the most futuristic subjects in this digital era? These subjects are never going out of trend anytime soon. From industries to daily life, data plays the biggest role. So, if you are thinking about pursuing an MBA in Data Sciences and Data Analytics then here is what you should know.
As India is steadily embracing the industrial revolution, the importance of data is increasing too. The magnanimous amount of data needs to be managed and handled by an expert to make the most of it. From operations to executions to marketing, every process is now dependent on the final analysis of all the data available.
An extremely important role in the business which needs skills and knowledge of an experts level. The demand for the job is going higher every day and the benefits are endless. From a rewarding salary package to growth in your career, everything is beyond your expectations in most cases.
While we understand that data is important but to host such a complex subject can get extremely difficult. One of the pioneer colleges of the country that hosts an MBA in data science and data analytics is Symbiosis College for Information Technology.
Before we jump into telling you why SCIT is one of the pioneers, let us answer a few questions that might pop up while you make the choice between MBA in Data Sciences and Data Analytics.
What is the difference between Data Science and Data Analytics?
Firstly, the two things, Data Science and Data Analytics are two sides of the same coin. The learnings of both the subject will be applied in an interconnected way. Both use data and both are needed by a company that depends on data for their functioning.
The biggest difference between the two is the scope of work. Data science deals with analyzing data and giving insights while data analytics comes up with actionable insights. Another difference would be data science deals with a broader horizon while data analytics is about specific data.
Both are used in different types of industry as well. Data analytics is used extensively in industries like travel, gaming, healthcare, and more. Data Sciences is mostly used and plays an important role in artificial intelligence based industries, machine learning, and digital advertising.
Some of the biggest players in the industry are looking for professionals with an MBA degree in Data Science/ Data Analysis. From Accenture to Microsoft to IBM, most of the MNCs are looking for you!
What can you do after completing your MBA in Data Science?
Data Science Managers
Product Analyst
Data Science Consultant
Database Developer
Product Management
Customer Experience Specialist
What can you do after completing your MBA in Data Analytics?
Operations Research Analyst
Higher Roles in Business Administration like HR Specialist, Budget Analyst, etc.
Computer System Analyst
Software Developer
Jobs you can apply for with both the subjects?
Data Architect
Business Analyst
Business Intelligence Manager
Predictive Modeller
Quantitative Analyst
Data Mining Expert
Who can apply?
Well, anybody who has had Maths in class 12 or has complete his graduation or taking a break from a job to upgrade his or her knowledge.
Benefits of doing an MBA in Data Analytics and Data Science?
Teaches how to study unstructured data for the benefit of the organization.
Enhances managerial skill and problem-solving abilities.
Acquiring knowledge about various technological aspects like machine learning and artificial intelligence can
In-depth knowledge about big data for better functioning and outcomes.
Fulfilling career opportunities with great designations and salary packages.
How can Symbiosis Centre for Information Technology be the guide to a better career?
Symbiosis Centre for Information Technology understood the rising need for professionals with the expertise to handle and understand data way before anybody else did. It is one of the pioneer colleges to have the ability to host such technology-driven MBA courses. The college aims to make you stand out!
The curriculum is designed to match the standards of the industry and helps the students to stay ahead of the rest. Constant guidance from the experts, workshops, and practical training enables the students to shine bright at their jobs.
A well thought out curriculum encompassing the innovations and advancements of the ever-evolving digital era. SCIT prepares a student to master the skills of dealing with big data and use it to bring success to the company.
The course also teaches the latest tools to study data like R, Python, Tableau, and more. SCIT hosts an enriching learning experience that will leave you filled with knowledge and practical experience. Sounds complete, right?
The campus life is the game changer! A beautiful campus standing tall graciously welcoming students from all walks of life. The placement cell is another added advantage of becoming a part of the institute. They not only make sure you get what you deserve in terms of job profile and salary but also in terms of overall growth.
Get in touch with SCIT and know more about the course and decide for yourself. We wish you all the best for an extremely rewarding career!
Click here to get more information: https://www.scit.edu/enquiry2020/