The Day that gave new insight. My first day at SCIT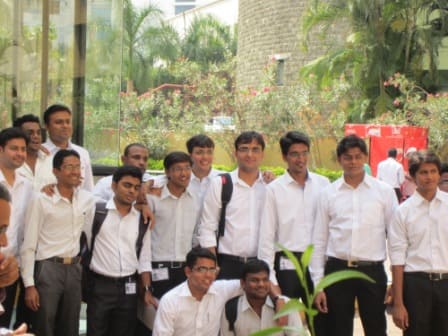 Fearlessness, focus, hard work, struggle and living in the present were the main messages and values that were imbibed in me at my first day at SCIT.
Getting an admission in SCIT and becoming a part of the Symbiosis family is a daunting task in itself. We had to get through a rigorous selection process to get into a college affiliated to Symbiosis International University. After going through the rigorous procedure of SNAP test and PI-WAT one tends to feel calm and composed for later stages but in my case I had butterflies in my stomach thinking about the future as after investing such time in a course you do feel scared and worry about the future.
Sitting in the auditorium with a large gathering and waiting for the ceremony to start, talking to students I realized that I was not alone with this fear. This did decrease my nervousness a bit but I was still apprehensive. Some sort of shot in the arm was needed to overcome the fear and it was provided by the speeches given by the dignitaries.
What the interaction with other students gave me which I only realized later was that all students had the same level of anxiety and apprehension as mine. What got this apprehension out of us for the rest of our lives was Dr R Raman's speech.
The speech only gave us the message of having faith as an antidote of fear. Having faith in what you have decided, what the decision will give you and having the faith that whatever the decision maybe it will give benefits at the end made me believe in my decision to join SCIT and doing an MBA in ITBM.
The other message as always given is having focus and struggle to work hard given by our star alumni Mr Abhilash Verma. He credited
his success to pedagogy and teachings he learnt here at SCIT and gave us inputs on how focus, hard work and struggle in our life are important tools through which one can hone oneself and achieve success.
Overall my first day at SCIT gave me an insight of what kind of teaching I will have to keep in my heart to lead in a successful direction in my life and how having faith and staying focused and doing hard work are the mantras one have to always take to reach the goal they want to achieve.