SCIT – Placement Stats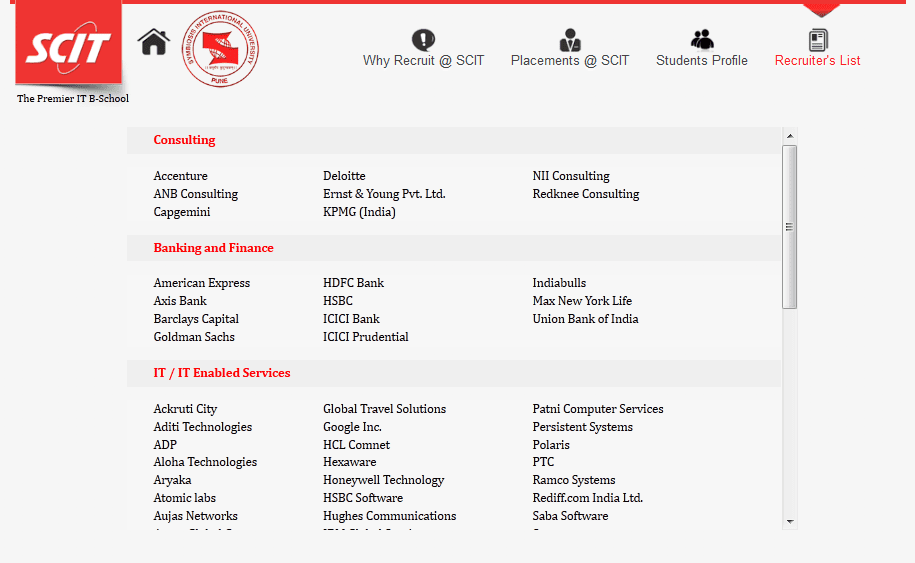 02nd November 2012
Dear All
Year after year, batch after batch, one thing that remains an attraction for many aspirants looking to join a B School to pursue their MBA program, is "Final Placements". Placement, Prospects, Profile , Package and Position have always remained key points, which the aspirants wish to know before they zero down and select a B school.
Last year's placement statistics is available at http://www.scit.edu/placements.php#placement-stats and it is clearly stated that, the data displayed is as per the placement policy of SCIT and has also been stated that the report has been prepared by taking open category only. I always tell the aspirants that "SCIT is not a placement agency" and placement is a natural outcome for students who add value to themselves through all the opportunity ( academic and extra curricular) given to them during their two year tenure at SCIT.
All those participants who look at MBA as an "experience" and add value to themselves, both through academic and extra-curricular activities, get placed in the best of the blue chip companies, consulting firms and also in the big four( audit firms) PwC, Deloitte, Ernst & Young, KPMG.
The list of recruiters is given at the same link http://www.scit.edu/placements.php#placement-stats , which gives a clear idea on the number and the type of corporate who visit SCIT for placements year after year.
Just to give more clarity I thought of sharing some more numbers with all of you. Right since inception in 2001 till date, a total of  1597 have graduated from SCIT and of them 1477 were placed from campus and the balance 120 either started their own firm or opted out of placements or did not find a job immediately after they graduated. We have seen bad times (recession) and good times but in spite of all those lull & high we  have an impressive track record for placements!
Dr Raman
Driector – SCIT