Big Trends in Data Analysis in 2020 | SCIT Blog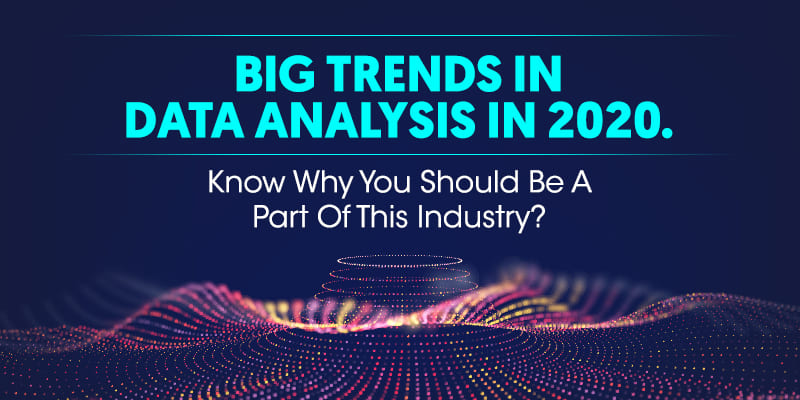 We all know how data is a crucial part of any business now. Every company is now dependent on what the data says. It is a complex way to know what works and what does not work for your business, making every business owner's life easy!
It will come as a surprise to know the amount of data that is produced on a daily basis. With the advancement of technology, humongous amounts of data are being produced. This data can only be useful if it is properly segregated and studied. This can only be done by an expert and a layman can't understand the data language.
Technology is an ever-evolving element in today's time, giving birth to new advancements every day. While technologies give us endless advantages we have to understand that this constantly changing nature can be difficult to keep up with.
Big Trends Of Big Data!
To help you keep up with technology innovations, here are some of the biggest trends in Data Analytics that you must be aware of for a better future for your business:
Data As A Service: Data as a service is now slowly but steadily replacing SAAS ( software as a service). This will not only help data analysts to make data simpler and obtain for enhancing business processes.
Blockchain: Blockchain is one of the finest innovations that help in securing your data. It enhances analysis by verifying the validity of data, removing all false information from the analysis process, ensuring accurate results. Blockchain also amps up the security by creating various blocks that are difficult to break and decode.
Data Fabric: Data fabric enables the sharing of data in a seamless way, making it simpler for analysts. Data fabric helps in bring all the data from various places and accumulates it in one place, making it more accessible to the experts who are working with it to enhance business. This allows better data organization, keeps it unified, and makes it easier for the data analysts to work with it.
Augmented Analytics: The wonders of artificial intelligence and machine learning are not unknown to anybody. Many businesses are incorporating ai to enhance the user experience and give the brand a modern touch in their customer service. Augmented analytics is a faster way to analyze data and give meaningful insights. This also gives you actionable methods that can be implemented in your business for better results.
These are some of the trends that you must start incorporating in your business and professionals must start learning about. If you have a keen interest in making a career that revolves around data analytics or technology then you must know about the hottest trends of data analytics then do you know what your next step should be? A professional must have all the complex knowledge about handling data.
Why Should You Choose Data Analytics As Your Specialization In Your MBA Course?
The vast scope of data analytics is something you should look forwards to. You will be introduced to endless opportunities after completing your course as companies across industries are looking for professionals who already have the practical knowledge. An MBA in Data Analytics is all that you need to flourish in this field. Let us tell you some of the reasons why choosing data analysis as your specialization can help you grow in your career:
High demand for analytics professionals as industrialization is hand in hand with technology.
Need for knowledgeable professionals to meet the skill gap.
The tremendous growth of big data analysis across industries.
Imbibe the ability to make informed decisions with the help of data.
Rise of unstructured data that has to be organized by a professional
The industry's growth is magnanimous in nature and is exceeding predictions every year.
Big Data analysis is being used across the world and industries, ensuring an ample amount of work opportunities.
Get a chance to choose from the numerous job roles and types available under data analytics.
The salary offered is not only a whopping amount in the beginning but is beyond expectations after you gain more experience.
The industry is a never-dying industry as the world will never get over technology.
We all know technology and big data are the key instruments of growth in every country especially India. The IT industry has been the key contributor to the GDP of the country.
Why Should You Choose The Symbiosis Centre for Information Technology?
If you are looking for a college that hosts an incomparable professional course on data analytics with extremely honorable professors then Symbiosis Centre for Information Technology is where you should end your search.
Symbiosis Centre for Information Technology is one of the pioneers of bringing this specialization to the education industry. SCIT is known for its extremely competitive curriculum, always updating according to the industrial trends.
From a great campus to an amazing placement cell that promises opportunities to all is available for you at SCIT. They have experts from the industry conducting workshops to let the students understand and apply what they have learnt.
Throughout their course, overall development is offered to the students where they enhance their skills and prepare to face the world of business.
Take the big step today and learn from the best to step into the most rapidly growing industry of data and technology.