Who's the real Champion? Champion's League Final : SCIT vs SCMHRD -Suhaani Khemchandani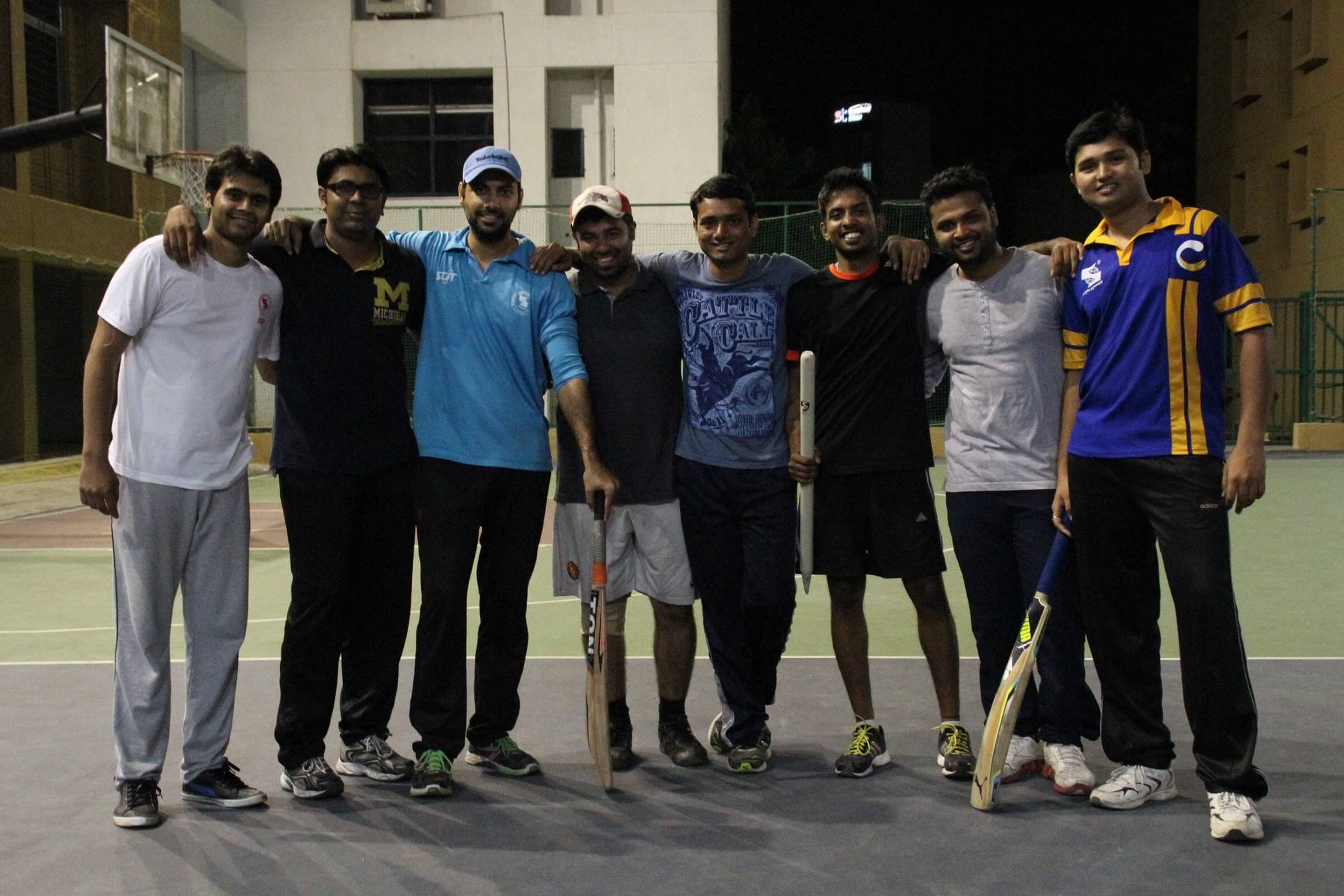 Tick Tock Tick Tock Tick Tock,
                             Gear up people before reading about the final knock
The champions League 2015 which began on 13th August 2015 had a series of very interesting matches finally resulting in the clash of the Titans "SCIT vs SCMHRD" showing up on the field – face to face, to clinch the title of "the Champions". The deciding date- 18th August had the entire SCIT and SCMHRD fingers crossed for their respective teams to bring home "The Champions League Title" and the much awaited match began with SCMHRD winning the toss choosing to bat first.
The SCIT bowling line up opened with  Gaganjot Singh Siddhu(famous as Gagan), who took his 1st wicket in the 1st over itself. The 1st wicket in the 1st over gave SCIT the perfect start that they would be hoping for. A match in which every ball mattered so much, every run meant a greater competition, where every misfield could give a morale boost to the opponent team.Among such conditions too, SCIT had a good bowling and fielding tie-up.
It is said that
                                                       "It takes two to tango"
The SCIT team in its first innings had such an exemplary and commendable display of perfect tango between its bowlers and fielders that it helped them take SCMHRD wickets like a cakewalk. The 1st wicket being bowled by Gagan, caught by Shreyas Amte(famous as Amte), the 2nd bowled by Amte, the 3rd being bowled by Gagan and beautifully caught by Shiv Sanket , the 4th being bowled by the captain Ashish Tandon caught by Gagan. The loss of these initial wickets of the batting line up in the first few overs had weakened the SCMHRD batting order. This coupled with the SCIT team's commendable bowling by Gagan, Ashish, Amte and Shiv Sanket made it even difficult for SCMHRD to raise a good score. The batting team raised a score of 31 to win from 10 overs.
SCIT had a blessed 1st innings where all the hard work they had put saw the rewards reaping in.
The 2nd innings saw SCIT chasing the target with Gagan and Saurav Jain opening the batting order. Gagan , who pulled up a great show in the 1st innings with his balling and fielding skills showed his  ALL ROUNDER charisma in the 2nd innings by hitting plausible boundaries right away in the 1st over to make SCITians celebrate in the stands. The target was caught by SCIT within the 1st few overs itself and it was an accomplishing win for SCIT. The victory saw the entire SCIT team along with it's supporters celebrating their victory in the playing arena with the chorus of "MIGHTY MIGHTY SCIT".
A post-match interview of the players had the following excerpts-
Captain of SCMHRD, Nitin Gupta –
"We never really practise for the matches. We played like bosses throughout the league matches. However, SCIT played real well today and it clicked in their favour.  "
Captain of the winning team SCIT , Ashish Tandon-
"This is my first win as a captain. It was a beautiful display of  team spirit. Each and every player of the team played really well today which made us win. I want to thank the crowd for supporting us here and especially my dear friend Sharon Singh. My dependables in the team which include Gagan, Amte and Jatin lived up to my expectations and the results are in front of you."
ALL- ROUNDER Gagan, SCIT –
"We had planned to play our match this way and our plan worked. To win against SCMHRD is the biggest satisfaction for me and today has been a day that has given me that."
Shreyas Amte, the charming bowler(SCIT) –
"I just enjoyed my game and I am happy to be a part of the winning SCIT Team and I wish to see SCIT team win in many more matches to come"
Jatin Kajani , the happy-go-lucky player(SCIT)-
"Though I did not get to show much of my skills today, but I guess I already showed all of it in the Semi Finals and Quarter Finals. Keeping all of it apart, today's victory is a refreshing victory for me."
Shiv Sanket, the player with a heart-warming smile(SCIT) –
"The position where i took my catch is my favourite position to field. When I asked my team , they gave me that fielding position and I was really glad about that. Rest the results speak. :D"
Gaurav Pawar, the Sports Coordinator of SCIT-
"It is not just about today's match, it is about the entire league. We starved to get this victory along our side. In the league matches, we lost once against SCMHRD. However in today's match there was no pressure as our team had come in it's form since the last 2 matches.This victory matters a lot to me as this is my last year at SCIT, so technically speaking this was the last Champions Trophy that I could be a part of and winning it  is what has given me the satisfaction I needed. "
This was the grand finale of the CHAMPIONS LEAGUE 2015 AT SIU. To sum it up all I would say-
Of 365 days in a calendar, there are few ones
When you return home being called  "The Champions",
                                           With loads of hard work and blessings of Almighty,
                                          This Championship was won by Mighty Mighty SCIT 🙂