The Insights of SMAC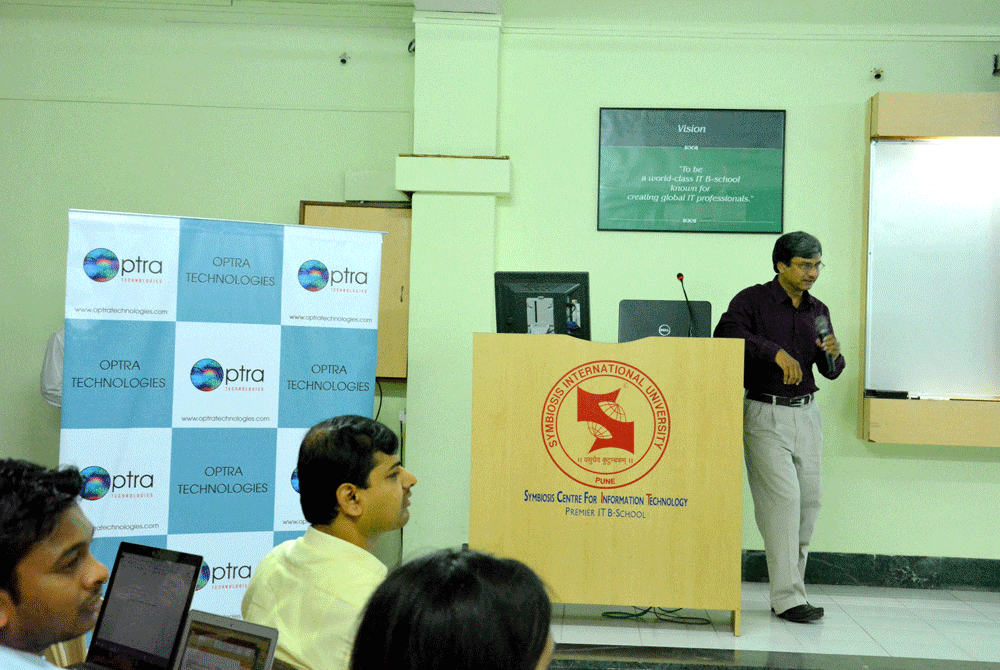 The batch of 2015-17 hosted a Guest lecture on the understanding of SMAC along with Optra Technologies. The company recently launched OpTIC(Optra Technologies Innovation Corridor) in collaboration with SCIT on 22nd July,2015.
SMAC (Social, Mobile, Analytics and Cloud), is not just an acronym but a concept of putting four technology ingredients together.
That was how the topic of "SMAC-Enabled Digital Transformation" was introduced to the crowd, which had a mixture of students as well as professionals from the industry.
The speaker for the day, Mr.Hemant Pande who has more than 25 years of work experience in total and around 14 years of experience in Persistent, gave a good understanding of SMAC to the audience.
The initial few slides of the presentation discussed two recent articles about Tata group and HDFC bank as to how swiftly these companies are moving towards digitization, as the customers are becoming digital savvy.
The presentation moved into its next phase as the first of the four ingredients of the hot topic was served.
Crowd Sourcing, Enterprise Social Channels, Customer Connect and Social Branding is Reputation were the key topics discussed on the social side with the example of companies like Starbucks, Toyota, Amazon and Wallmart.
The next in the line was mobile which included the topics of Mobile Apps & ecosystems and Mobile Payments, which included the examples of Airtel Money, PayPal, etc.
A term searched often on the Internet these days by IT students, Analytics was next in the list. Analytics can be used for a variety of things ranging from human DNA decoding to real time traffic analysis.
The last alphabet on the acronym, Cloud included topics of IOT and Hybrid Cloud Rising.
Mr. Hemant gave two highly technical and useful example of IOT, an alarm clock connected to the internet starts buzzing early when it senses heavy traffic on the road to the person's office and a bed which instructs the coffee machine to prepare coffee as soon as the person gets up from the bed.
The need to transform into a digital business is very high, as the organizations are not only looking to respond to the needs of efficiency and growth but also exploit a different digital paradigm.
Last part of the presentation that was named Digital Disruption in Transformations gave information about firms like Uber, Airbnb and Tesla. These firms have been able to redefine the industry standards. Alibaba, Netflix, etc. have been some more outstanding performers.
The last slide of the presentation that discussed about the takeaways from the key factor that going digital is a matter of survival and not an option. It also emphasized on the fact that understanding the entire technological landscape is important.
Hope we are going to attend many more informative sessions like this one in the days to come.
Till then, keep calm and enjoy life!!