NGOs Presentations at ISR SUMMIT 2015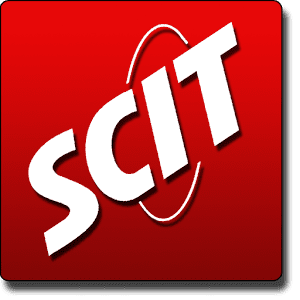 As Winston Churchill once said, "We make a living by what we get, but we make a life by what we give". This was the central theme which brought us all together on this memorable day at SCIT.
SCIT ISR Committee (Symbiosis Centre for Information Technology, Institutional Social Responsibility) hosted the Institutional Social Responsibility Summit 2015 on the theme "Building Bridges" on 7th August 2015 at Symbiosis Infotech Campus, Hinjewadi, Pune. Various NGOs graced the occasion with their presence and inspired students to engage in social service across dimensions.
The NGOs presented at SCIT ISR Summit are as follows:
1.     Team Everest:
Team Everest is a voluntary group who serve in helping the needy people with primary focus on "Promoting Volunteerism". Kartheeban C founded Team Everest in 2006 when he first joined in IT Company. On the day of ISR Summit, Dr.Tejasvini, who is a dentist by profession and also volunteer of Team Everest, gave a presentation on how Team Everest carries out different activities to help children in their education. In her presentation at the summit, she mentioned about two important Verticals on which Team Everest focuses on:
Promoting Volunteering: Team Everest's dream is "If every person volunteers at least once in a month (12/365), it is going to make a huge difference in society". In a journey of 9 years, with the support of 8500 IT employees and volunteers, it has become successful in changing 8, 00,000 lives in the society.
Providing Quality Education: Team Everest started helping children in their education by distributing notebooks to around 400 kids. A clear example is when they helped a samosa vendor achieve his dream of becoming an Automobile Engineer by assisting and supporting him in his education. Now, Team Everest has spread into 10 study circles in 10 villages in Chennai where volunteers come from faraway places to help many such children realise their dreams. Apart from education, they conduct various activities like Digital Literacy; Help a kid Read Program, Talent Search Competition to make children proficient in co-curricular activities thereby helping to build their confidence. They are beginning operations in Pune.
For more information: http://teameverestindia.org/about/
2.     Navkshitij:
Navkshitij, "New Horizon" was established on November 27, 2003 in Marunji, a suburb of Pune by Dr. Neelima Desai with prime focus on
improving the well-being of mentally challenged adults by creating a home for them. On the day of ISR Summit, Ms.Vasudha Deshpande described the reason behind establishing Navkshitij for adults as it become increasingly difficult for ageing parents to nurture intellectually challenged children when they grow up. In Navkshitij, these intellectually challenged adults, treated as "Special Friends", are taught life skills, vocational skills and are also taught computers. At present, Navkshitij accommodates 47 special friends cared by 23 volunteers.
Navkhitij has its own Adventure Club which organizes different adventure activities which includes treks to the forts and hills in and around Pune, Parvati Hill climbing contest, and Jal Dindi and paralising, zorbing, river crossing, rappelling, paragliding in the Himalayan region. Many friends and volunteers, join them on treks, adding zest and spirit and boosting their confidence. At the end, Ms. Vasudha Deshpande quoted by saying "We cannot increase IQ of our special friends but their skills can be increased."
For more information: http://www.navkshitij.org/index.php/en/
3.     SNEH Foundation:
SNEH which stands for "Solid, Nutrition, Education, Health Care" was started in 2011 by Pankaj Bhora. SNEH focuses on providing nutrition to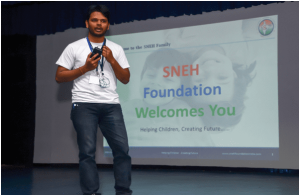 malnutrition children. SNEH is a nutshell which includes SWEP (Sneh Women Empowerment Project): Women Empowerment, Women Employment and Fund Generation. They together create a new drop in the ocean and have trained over 1.6 million people around the world. The NGO works upon a thought that no child should be deprived of solid nutrition, education and health.
4.     Apnishala:
Behavioural and attitudinal needs of children from diverse backgrounds are effectively catered to. Children are engaged in life skills education through fun and interactive school
programmes that leverage the power of drama, games, films and art. This makes learning fun and facilitates learning without lectures. Apni Shala's pedagogical approach is therefore an amalgamation of these mediums of learning (Games, art, stories and drama, community service) woven into the concept of 'life skills education'.
Teachers' Orientation Programme called 'Kick Start Life Skills' helps teachers design their own life skills education programmes for their children, and gives them the know-how of delivering such programmes in simple ways in the everyday classroom. Also, they deliver life skills education programmes to schools and non-profit organisations that wish to focus on social and emotional development of children.
For further information: Call 98205 08580 or visit www.apnishala.org
5. Sampurn(e)arth:
Sampurn(e)arth is a venture supported by DBS-TISS Social Entrepreneurship Programme and Unltd India dedicated to urban waste management.
They provide end-to-end decentralized waste management solutions for housing societies, corporate houses, townships, schools and college campuses, saving transportation costs and eliminating related emissions. They design biogas plants for wet wastes and channelize non-biodegradable waste to recycling units.
They conduct waste audits and awareness campaigns to spread awareness about the need of proper disposal of wastes. They work in close collaboration with a 40 year old reputed NGO based in Mumbai, Stree Mukti Sangathana, working with nearly 3000 women waste pickers and in waste management since 1999. Sampurnearth has won laurels at several international events, the most significant one being Global Social Venture Competition 2014 organized by the Haas School of Business of the University of California – Berkeley where it emerged as the winners out of about 650 entries from 40 countries.
For further information: www.sampurnearth.com
6. Uncancer India:
It is a Not-for-profit organization started by a group of few Cancer Survivors to work towards improving the Cancer Support Ecosystem in India. Its vision is to setup a nationwide platform to provide support and counselling services to Cancer patients and their families and engage in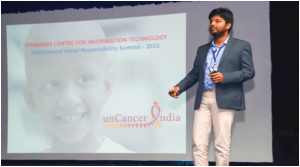 initiatives around prevention and early detection of Cancer.
It is a community of volunteers who provide support to people suffering from the most deadly disease cancer and aim to bridge the patient doctor gap of 1 per 3000 patients. Its focus areas are: 1) Information 2) Support Services 3) Capacity building for existing Cancer NGOs 4) Innovation & Research.
Through these informative and inspiring presentations, NGOs provided valuable knowledge about what they do and the importance of social responsibility to the students.