The Self-Introspecting Trip-Surya Shibir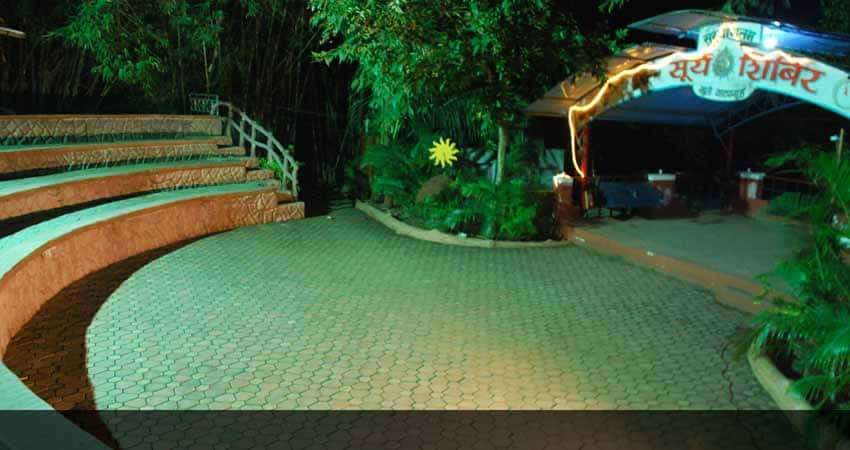 The Self-Introspecting Trip-Surya Shibir
I have been told by many people that the two years of MBA is going to be the most memorable period of my life and it will also change me as a person and also the way I look at life. But, I never thought my bucket of memories would start filling as soon as I get the induction schedule! Just two days after joining SCIT we were being taken for an overnight trip to Surya Shibir.
Not being able to control my excitement I immediately googled the place and I was even more excited about the visit after seeing the beautiful pictures and yes,being my first overnight trip without my parents,I was already ready to try something new.
My roommates and I were busy packing at night reviewing our check list again and again and guessing the activities that we would be doing and we hardly got any sleep. But then again who needs sleep when you have an exciting trip coming up with your new friends from your new college .
We woke up extremely early not really caring that we did not get enough sleep-again stressing on the fact that we were very excited! We got ready,charged our camera batteries and assembled at the main gate for the bus and within no time we boarded the bus and on our way to our "icebreaking" trip!
As childhood traditions follows we played the "travelling"games in the bus like antakshari and it would be difficult to say that all of us met just two days back! So  well, ice had already started melting! On reaching the place we were allotted rooms. We were then introduced to the amazing crew of Out-Fit who were in charge of all our activities during our two day visit. The crew comprised  of ex amry men so we knew  we were going to have "disciplined" fun.
We were soon divided into groups and each group  was given a different color batch on which we had to write our names (which made us feel like we were back to primary school) and we were asked to wear it all the time and were reminded again and again in the exact words "NO batch no food".
We were then divided into sub groups of six boys and six girls and we played a fun game were we passed a ball and memorized each other names. I will not forget my team members' name after such a game. Proof? Suhani, Shaheen, Nisha, Harshita, Shweta, Fenil, Shreyash , Parth, Rahul, Lovepreet,Benny and we called ourselves " Hot Pink"-something I would never  forget!
At first we played the games thinking they are just games, but then we realized every game is designed to teach us something-teamwork,trust,thinking,being a leader and above all being a good friend. By the end of the day we were all joking together and not caring about time at all.
The next day was the big trekking day! Most of us were excited but I was a little nervous as I had never been on a trek before and I did not trust myself enough to complete the trek. And as I had guessed within no time I was lagging behind trying to catch my breath and Col. Suhas had to slow himself to make sure I am not left behind. I can never forget Col. Suhas  and cannot thank him enough for teaching me some extremely important lessons in life which cannot be taught in any classroom. "Believe in yourself" "You are stronger than you think" "Get over your fears".So,with tremendous from my friends and Col. Suhas I completed the trek feeling proud of myself and also realizing that I need to trek more often now!
At the last hour I went to Col. Suhas to shake hands and thank him for helping me learn a very important lesson in my life and I also said,"Sir please don't give my example to others and the laziest girl". He said,"I 'll always remember you as the girl who did not give up and that is what I am going to tell everyone".
So , thank you SCIT for this amazing self-introspecting trip which is impossible to forget.
Amrita Palmal
2015-2017
div-D