Thalassemia Awareness Program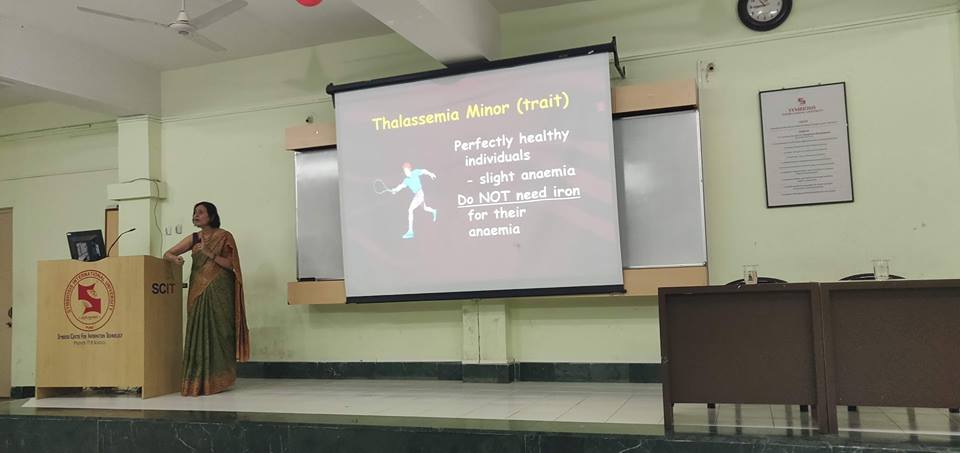 "The question is not how to get cured, but how to live."
– Joseph Conrad
These beautiful lines are not only inspiring but give a ray of hope to all those who actually want to their life to the fullest. There are few immedicable diseases which shatter people entirely but there are few who still find courage and fight with such diseases. Sometimes negligence of two partners make their kids suffer whole life. Thalassemia, is also such a disease which is inherited from parents and on which the patient has no choice but only suffering. Thalassemia is a blood disorder passed down through families (inherited) in which the body makes an abnormal form or inadequate amount of hemoglobin. The disorder results in large numbers of red blood cells being destroyed, which leads to anemia. For addressing the same issue, Dr. Nita Munshi, Director of the Department of Laboratories at Ruby Hall Clinic group of Hospitals, President of Thalassemia Society, Pune visited SCIT to educate the students.
Dr. Nita Munshi has contributed her career towards treating and helping the patients of Thalassemia. She educated the students on how they can actually put full stop on this deadly disease which is like a life-long curse. There were other members of the society also who were somehow directly and indirectly the victims of the same disease. Their stories left deep down effect on everyone's mind. Dr. Nita Munshi explained that how unawareness regarding the same disease made enormous people see their loved ones suffering whole lives. This disease not only shaken them emotionally but also put huge financial burden on them. Dr. Nita also mentioned about the challenges that Thalassemia patients actually face not only in their day to day life but also in their work life. She also talked about the life toss one has to play if he wants to get rid from this disease.
Priya Vaswani, one of the society members also accompanied Dr. Nita and shared her experience with the students. She is Thalassemia patient and pursuing her post-graduation. Her words motivated every single individual and entirely changed their outlook towards life. She inspired everyone that the meaning of life is not just to run from the problems but actually to face them.
Thalassemia Society, Pune Chapter, shared their target of zero Thalassemia patients by 2020 and requested students to take appropriate measures not to fall prey of this disease. Students thanked Dr. Nita for her wonderful initiative which is changing lives of many people and telling them the new meaning of life. Every person in the hall made up their mind to support Thalassemia Society, Pune Chapter and help the society in accomplishing its target. Encapsulating, her words taught us one thing and that is the 'meaning of life'.
Manpreet kaur