SPROUT IT' 2023 – Innovation Oasis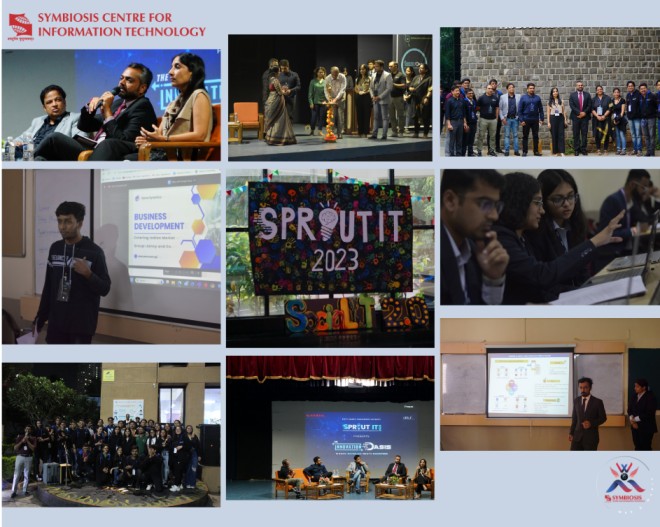 The ITELF, the entrepreneurship cell Committee of Symbiosis Centre for Information Technology, organized 'SPROUT IT' on September 9, 2023.
The event started with a panel discussion with the theme of " Innovation Oasis." Various industry experts like Ajit Hatti (CEO and Inventor of Pureid), Payal Jain (CEO and Founder of Funngro), Chirag Panchal ( CEO and Founder of Enerlyf), Jignesh Patel ( CEO and Founder of Jivika Healthcare) shared their invaluable experience and insights with the students. 
The Sprout It event had enriching competitions like Rural Le carte where the participants had to choose, combine, construct, and plan from various rural products. They had to showcase their skills in being part of the transformation with. Another fun event was Ad Mad where students showed their creative skills in marketing products and services. 'AdMad' allowed the participants to act/ role play on various amusing, attention-grabbing, and conceptual advertisement scripts and ideas relevant to different sectors. Other events like Money Fusion, The Brand Challenge, The Entrepreneurial Film Festival, and many more were also a great platform where students and participants from different institutes and domains came together to exhibit their skills and talent. These events were a perfect mix of learning and fun for the students. Students of other institutions also participated in these events, which were a perfect example of experiential learning. 
The SPROUT IT  event also had various fun competitions like a human tic tac toe, where teachers and students participated and competed with each other. 
There were multiple food stalls for students and teachers to enjoy various cuisines. The Konnect committee of Symbiosis Centre for Information Technology also performed for the event and entertained the audience with their mesmerizing performance. The event ended with a DJ night for the students, where the students danced their hearts out and bonded over their shared love for Bollywood and dance. Overall, the event was a massive success with a perfect blend of fun, learning, dance, and music.