SPROUT –IT 2012-13 "Your Highway To Entrepreneurship"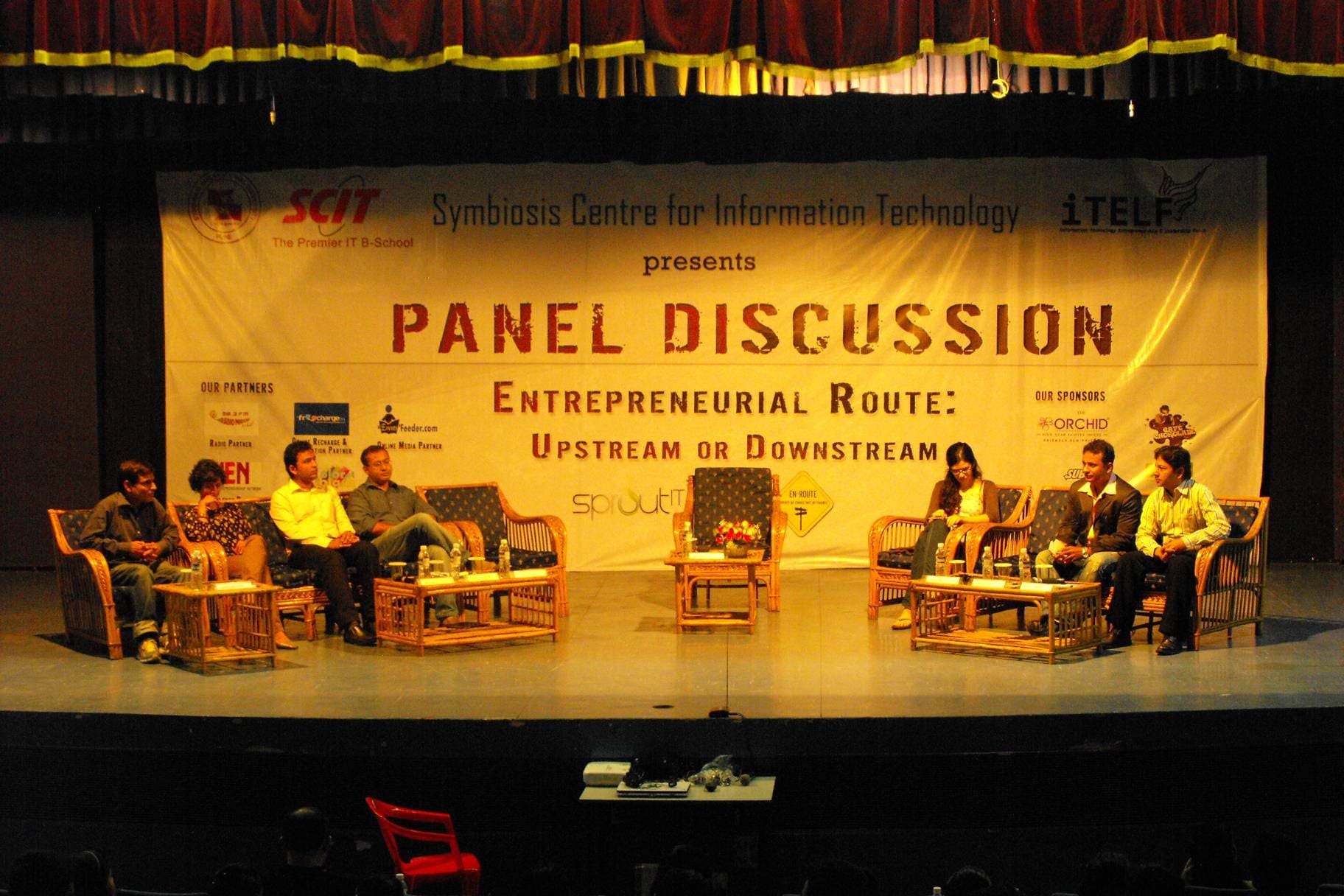 8th of September 2012 would be remembered as a golden day in the life of SCITians when they witnessed a history in making .SPROUT-IT 2012-13 'S  EN-ROUTE  journey by choice and not by chance which was our college's first flagship event carved new horizons of glory when  colleges from all over the country participated in making it successful .First of all I am thankful to Raman sir  and all the faculty membersfor giving us an opportunity to showcase our abilities and giving us a platform to nurture our skills.A big thank to Prof. Apoorva Kulkarni for being our mentor and showing us the path to success of this event throughout our journey.Within such a short span of its establishment,itelf-IT Entrepreneurship and Leadership Forum has proved its mettle  in making the flagship event a big grandure.ITELF is a student driven committee which was established to nurture the seeds of young entrepreneurship talents in management aspirants who want to become the leader and not walk with the crowd.With this motive the event successfully witnessed young management talents from SCIT as well as  top B-schools and renowned corporates. With a variety of events being organized I believe the event was at par with the best corporate events across the country organized by the best B-schools.The event witnessed a footfall from B-schools like SIBM  Pune, SIIB Pune, SCMHRD Pune, SICSR Pune, SIBM Bengaluru, SIMC Pune, TAPMI, IIM Shillong, K.J. Somaiya Mumbai, JBSIM Mumbai, Wellingkar Mumbai, BITS Goa, PUMBA Pune, Jaipuria institute of management, indira business school, Symbiosis law college, Hyderabad school of business and many other reputed B-schools.There was also a good participation from corporates like Infosys, wipro, Accenture, axisbank, icicibank, HSBC global  technologies, Tata Motors, Geometric Solutions and many others.
Now coming to the event pheewww!…a lot to talk about. The events had an overall prize money of whooping worth Rs.35000/-. This year event began with the flag ship event. PANEL DISCUSSION- The topic was "ENTREPRENEURSHIP UPSTREAM OR DOWNSTREAM". A big congrats to all the panel members  for  sharing  their  thoughts and experiences to us. All the panelists gave us example of difficulties, challenges and opportunities that young entrepreneurs seek in their life.We had gems of panelists who mesmorized all the participants with their intellectualism,wittiness and soft skills.I would also like to thank Mr. Ram for being such a great moderator.The panelists for this year's event were-
Chief Guest – Dr. Parag Kulkarni, Founder and Chief Scientist at EKlat – Research
Mr. Ashish Mehta, Co-Founder, Sokrati.com
Ms. Rita Kale, Founder & CEO, MoneyChat India
Ms. Tanvi Surti, Co-Founder at Chachii.com
Mr. Raghav Sandhane, CEO Spring Computing
Mr. Arun Purohit, CEO Simplibuy Technologies
Turncoat Debate-one more interesting event was turncoat debate where participants take a tough stand and then turn against themselves. The winners were Pooja Seth and Divya from SCIT and the runners up were Roshan and Poonam from K.J Somaiya Mumbai.
Paisa Vasool-The event was an interesting competition with a lot of fun and business tactics where participants were given a sum of 100 Rs. and asked to do business with it.The team which earned the maximum profit in 3 hrs with those 100 Rs. won.
Knock Down-Battle amongst the best presentations to make you through to the grand prize of Rs 5000.The winner was Nikhil Yadav from Wellingkar Mumbai.
Megamind-The participants have to come up with a business plan that can be the next big thing with a cash prize of Rs 5000. Winners were Bhupesh Kumar and Priyam Singh from Wellingkar Bengaluru.
Bizz Cognizance-The participants had to pitch their awareness of the business world against the best in this Business quiz.The event witnessed a huge participation with the winners being the team of Debjani Bose –SIMC,Hari Nair-SIBM Pune and the runners up were Ram Saravana from Axis Bank Mumbai who is also an IIM alumni and Swami Nathan Dixit from Geometrics technologies.
On your feet-The participants had to be spontaneous and give instantaneous solution to the given problem. The winners were Sayali and Rose from SCIT.
Stock-o-Mania-SproutIT in association with Moneypot.in organized this online event exciting simulation of the stock market where you can trade and win on daily and fort night basis.The winner of this event was Sonam Sharma –SCIT
Future Eye – It was an essay which was to be submitted online regarding future technologies that could change tomorrow's world.The winners were Shreyas Pawar –Wellingkar Mumbai and the runners up were Harsh Saini-SCIT and Kartik.N-SCIT.
I would really like to thank our partners and sponsers.media partner –Radio Mirchi, style partner- colors splash,knowledge partner-NEN,freecharge.in,event partner-events feeder.com and our sponsers-Little Italy,caféchocolade,subway and hospitality partner-VITS .
And finally a hearty congratulations and a big thank to TEAM ITELF .Without their sweat ,consistent efforts and sleepless nights this event won't get the accreditation and praise it deserves.I would now like to conclude this blog with a wish that this committee will comeup with such great events and a hope that the next batch will continue the legacy of true entrepreneurship spirit.
M VINEET CHANDRA
TEAM ITELF
SCIT MBA-ITBM (2012-14)