SCIT welcomes the Batch of 2017-2019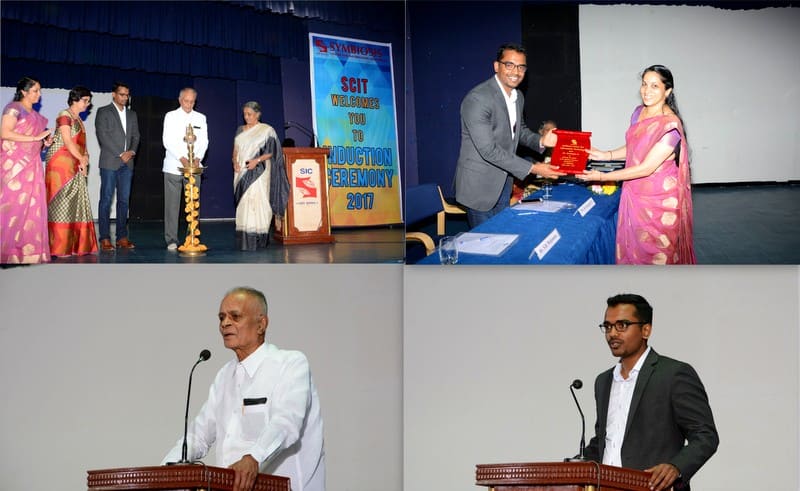 Curiosity, excitement, and enthusiasm filled the air at the Symbiosis Infotech Campus Auditorium as Symbiosis Centre for Information Technology welcomed the batch of 2017-2019 on June 1, 2017.  Around 220 students accompanied by their parents attended the Induction ceremony for the commencement of a new phase of their career.
Dr. S.B Majumdar, Founder and President of the Symbiosis Society and Symbiosis International University (SIU), Dr. Vidya Yeravdekar, Principal Director- SIU, Dr. Rajani R. Gupte, Vice Chancellor-SIU, Dr. Dhanya Pramod, Director- SCIT, Dr. Kanchan Patil, Deputy Director-SCIT and other dignitaries graced the occasion. The Chief Guest for the induction ceremony was Mr. Krishnadas, Director-Digital Payments at MasterCard, an alumnus of SCIT-2007-2009 batch. The presence of all these dignitaries was indeed a source of inspiration for the new batch. The Faculty members and other staff of SCIT  were also present at the event to welcome the new batch.
The event started with a short film narrating the foundation and vision for the establishment of Symbiosis University, followed by a video about Life at SCIT where the seniors shared their campus experiences and how the pedagogy of the Institute helped them convert their learning milestones. The ceremony began by the dignitaries lighting the lamp and a prayer to Goddess Saraswati (Goddess of Knowledge) for her blessing and guidance.
Dr. Dhanya Pramod welcomed the gathering and motivated the students to set their goals and work hard towards achieving them by being disciplined and honest. The audience was then addressed by Dr. Rajani R. Gupte where she shared her thoughts on ethics and purpose behind education. She focussed on the point that thirst of knowledge is more important than the thirst for money. Her speech was followed by Dr. Vidya Yervadekar's address where she motivated the students while highlighting the motto of Symbiosis "Vasudhaiva Kutumbakam" (The World is one family) and emphasized on the respecting the culture and idealism of the Symbiosis family.
The students then had the opportunity of listening to Dr. S.B Majumdar, his presence in itself was inspiring. He recited a prayer for the success of the students and then spoke on the importance of promoting good health, respecting time and shared a very thought provoking idea that 'Success is not the way to happiness, but happiness is the way to success'. This was followed by the Chief Guest's address, Mr. Krishnadas reminisced his days as a student at SCIT and shared how being diligent and adaptable helped him to reach such a successful position in the industry.
With this, the event came to an end and Dr. Kanchan Patil delivered the Vote of Thanks. This marked the beginning of a new journey for the students. On behalf of the senior batch and everyone at SCIT, we wish them good luck and hope that these two years at SCIT be very fruitful and memorable for them.