Outbound Programme Experience at Surya Shibir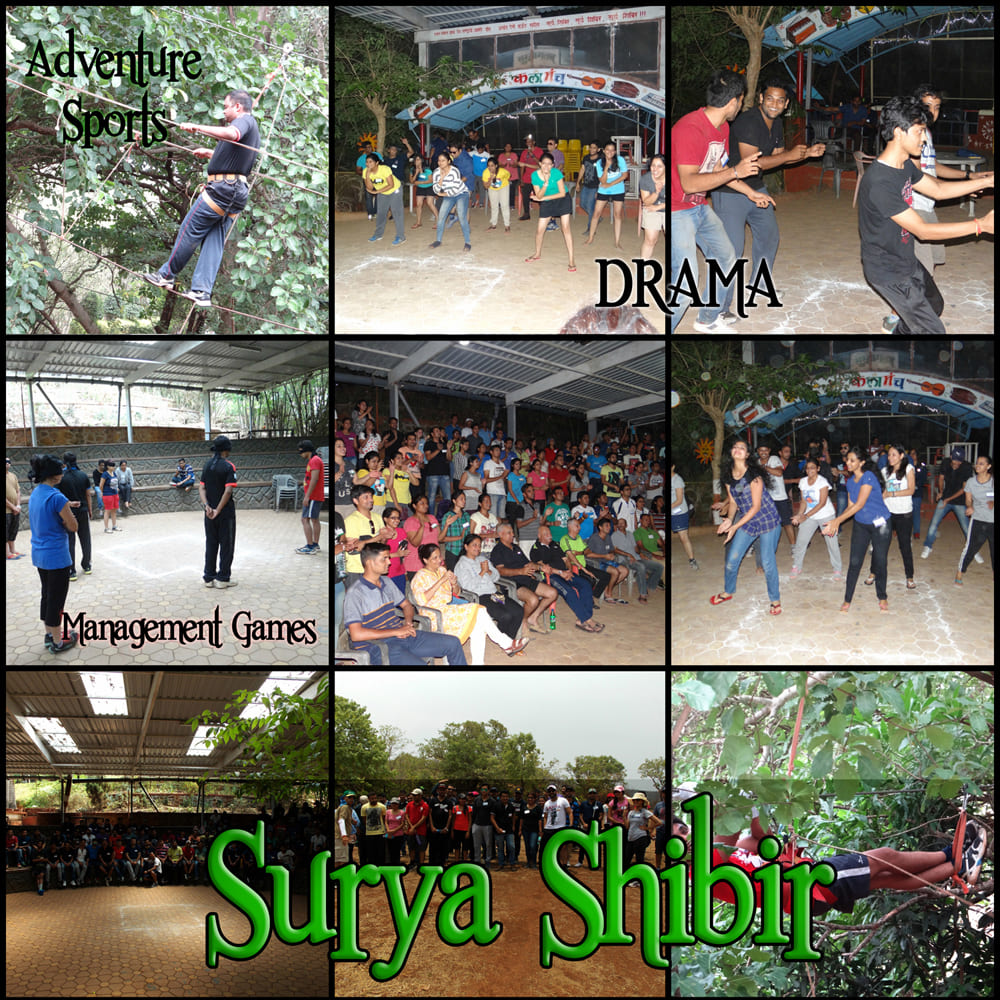 That feeling when you enter college for the first time. Who can chase that away from you ever-the fervour, dream, passion, aspirations, hopes, career goals and what not. The same thing happened to us when we entered SCIT campus. They had planned our schedule so well, we did continuously wonder about what the next thing would be like, what the next day would begin with. We were provided with a time-table for it as well. There was also an outbound activity planned for us named 'Surya Shibir' and we ignored it because we had no idea what it was all about, plus it didn't sound like something related to education.
Then, a day before, we received an email from college administration which had a list of items we had to carry along while on trip to 'Surya Shibir'. The list had items which we usually carry for trekking. We got sceptical and started enquiring about it. We tried to find what it was about, but to no avail, which left it to our experience. The day finally dawned. Early (read very early) in the morning we left for 'Surya Shibir' from our SCIT campus, accompanied by our faculty SavithaM'am. We assembled according to our divisions and boarded our respective buses. The journey began with all of us playing 'Antakshari' loudly in the bus and in no time we reached to a remote area, away from city, somewhere between mountains. The entry there played an exciting role in leveraging our enthusiasm.
We  were introduced by a group of people, who were part of 'OUT-FIT' group. As we head off towards a canteen for hot and fresh breakfast, we saw those beautiful huts and benches surrounded by trees, ropes tied up etc. They allotted us rooms where we got half an hour to freshen up and then meet the 'OUT-FIT' founders and volunteers at a place. We gathered there dressed in tracksuits and shoes, geared up and anticipating the fun ahead. They divided us in random groups of around 20 people who were total strangers. But we soon got along,thanks to the ice breaker activities.Soon after, half of us were sent for trekking and other half remained there for ground activities, like 'Valley Crossing', 'Burma Bridge', 'Sheep and Shepherd' and alike, to teach us lessons on team building and leadership.
The next day, we swapped roles as other half went for trekking and first half enjoyed ground activities including fun games. I must admit that the way 'OUT-FIT' founders and volunteers look after each one of us, as some gave up after climbing half mountain, a few felt their health deteriorating, was overwhelming.Had it not been their support, we couldn't have made it. Nevertheless,we all made it through the whole program with utter exuberance. Who would ever think of learning leadership qualities through such uniquemedium? Certainly, our college, SCIT and our university, Symbiosis only. All of us were extremely exhausted at the end of two days, but as we packed our bags we were still happy with known faces around as we headed back towards our campus. Half of us fell asleep in bus, half of us nostalgic about the time we all spent together, how wemade new friends and interacted with new people hailing from different parts of the country, different approaches and going back with lessons learnt.It was truly a 'PLAY and LEARN' experience
Such a beautiful memory gifted to us by SCIT at the very beginning of our academics will linger with us as we start our journey here!