Managing Cyber security in the Work From Home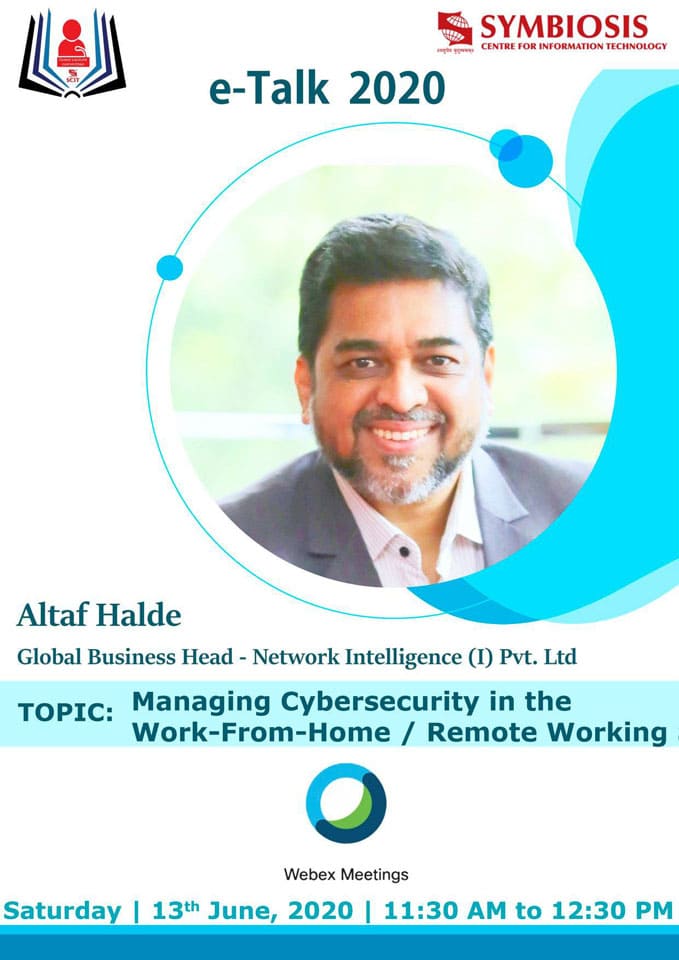 An online webinar was held on 13th June, 2020 as a part of e-Talk 2020 on the topic Managing cyber security in the Work From Home by Mr. Altaf Halde. He is the senior vice-president at network intelligence and is associated with this company for more than 3 years. He has an overall experience of 20 years in IT security sales and marketing. The talk began with an introduction about cyber security and how attackers find ways to attack the organizations. Later, he moved on to the current scenario of remote working and its effects on the organizations.
This pandemic has made us understand the importance of remote working and the disadvantages associated with it. Mr. Altaf gave us insights about the impact of multiple threats to an organization. He discussed about the occurrence of major risks and challenges due to the remote working. He also gave ideas on how to setup a secure working environment at home. He provided in detail perspective about ransomware, evolution of malware, internal & external factors. Apart from this, he also discussed about various ways attackers have adapted to steal data.
Mr. Altaf encouraged students to ask questions and gave explanations to the questions put forth. He also discussed various career paths associated to it. This session was very informative as cyber security has gained an important part in our lives.