Love Everyone, Help Everyone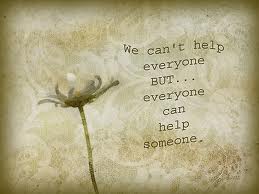 Most Memorable Moment of my life: GOD IS INSIDE YOU.
As usual Sunday,no breakfast,I was drinking tea in a bakery in Kasturi Nagar,Bangalore. Suddenly a lady came towards the bakery with tears and asked everyone where is my mobile?? I lost it, where is it?? She looked very very tensed.she is not able to speak any words completely.Holding one hand in her chest and she was asking everyone,where is my mobile??. she felt very difficult to speak..She was continuously saying something in Kannada but everyone was just starring at her..I asked the nearby people what she is telling..no responses..I was not able to understand,i know only" kothilla and door open Maadi" n kannada..But i went near to her and asked,"yennachuma??(what happened).She said mobile,mobile..please help me chinna bheta..ok ma,don't be tensed.tell me your mobile no.she uttered..it was ringing when I dialed the no..then i told her,don't worry ma,it is ringing.it will be in your home.She holded my hand and told me,"please  help me chinna bheta".Then i took her in my bike and went to her home.She was continuously praying something to Jesus. She looked very much tensed and not even able to open the door.I helped her and opened the door.I dialed her no from my mobile.Thank god,I was able to hear the ringing sound.Then i took the mobile after searching and gave it to her.After looking at the mobile,She suddenly fell down to my feet and started telling something in kannada. I was completely shocked when a 60 year unknown lady fell down,touched my feet and telling something in Kannada.I understood only two words.one is Thanks and second is Jesus,nothing else.I avoided her doing this by moving a little back.Then I told her,Don't do this ma,you are like my mother.Then I fell down and touched her feet and asked her to bless me.She kept her hand in my head and prayed something in kannada. I made her sit comfortably and gave some water to drink and left her home. But still after i was not able to come out from the shock,not able to come out of my deep thinking.why she touched my feet?? what she would have told in kannada at that time?? after all for a mobile..Then finally I realized..No need to search god anywhere,God is living in every souls.When you gave your hands to those who deserve your help,God will come out and you will be considered as god.Everyone will worship you. I felt very very happy that time.So friends,"Love Everyone,Help Everyone,Bring the god from you out,Let'z everyone will worship".
An SCIT Student
SCIT MBA(ITBM)2013-2015