Poverty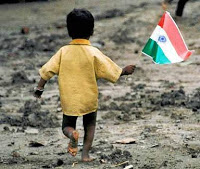 Being unwanted, unloved, not cared for, forgotten by everybody, I think that is a much greater hunger, a much greater poverty than the person who has nothing to eat.
–          Mother Teresa
Poverty is the worst form of violence.
–            Mahatma  Gandhi
Poverty as a whole is a curse for those who are deprived of some privileges and benefits they deserve. Rural India population is 70% of total population as per business standard survey. They live as slaves, or as workers. These people move from states to states working for their owners. These people send a major part of their earning to their families to meet the two hands.
An alarming era of educated unemployment is fast approaching, particularly in urban areas. Governments decision of privatization has made created this problem and will bring urban poverty or will enhance economic development.
The World Bank has defined the rural development as a strategy to improve the economic and social life of people. The main focus should be on rural development and not the development of infrastructure.
Progress in concept, prosperity in houses will certainly bring a change in attitude of rural life and they will rise to accept the changes in styles and technology. Prosperity in villages will ensure rise of the whole nation and country.
By-
Yukti Gupta (Batch-2013-15)