Leading with Alliances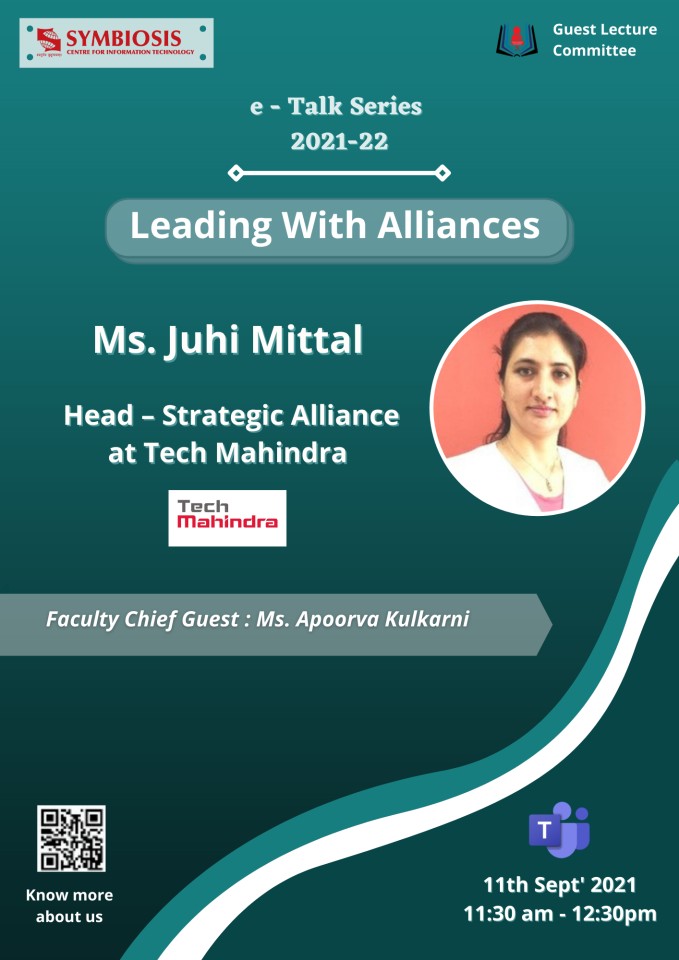 A guest lecture on the topic "Leading with Alliances" was conducted. The resources person was Ms. Juhi Mittal, Head – Strategic Alliances at Tech Mahindra and a proud alumnus of the 2003-05 batch. She began the session by recounting her days at SCIT and the first company she got placed in
after graduating. She encouraged the students to talk about their experience with the college and gained an understanding of how it is going so far. She then eased into the session by giving an insight into what the students could expect to learn from the lecture.

She talked about the meaning of alliances as a concept, the three types of alliances found in organizations, the need for alliances, and their benefits. She also touched upon the right attributes of a partnership, how it is formed, and its cross-road with other functions of an organization. Throughout the session, Ms. Juhi gave practical examples of alliances related to the IT industry, making it easier for students to connect. She also talked about the challenges faced in alliances and how the success of an alliance
is measured in an organization. She emphasized that alliances are essential in an organization as they take the firm one step closer to achieving its goals. At the end of the session, she also gave tips to the students on the key attributes they must possess to become successful alliance managers in the future. Ms. Juhi concluded the session with a great quote that said, "Collaborate, expand and deliver results." The whole session was very interactive, and the students were also able to clear their doubts on the
topic and know more about industrial practices concerning forming and maintaining alliances.