It's all about Global Business Process Management…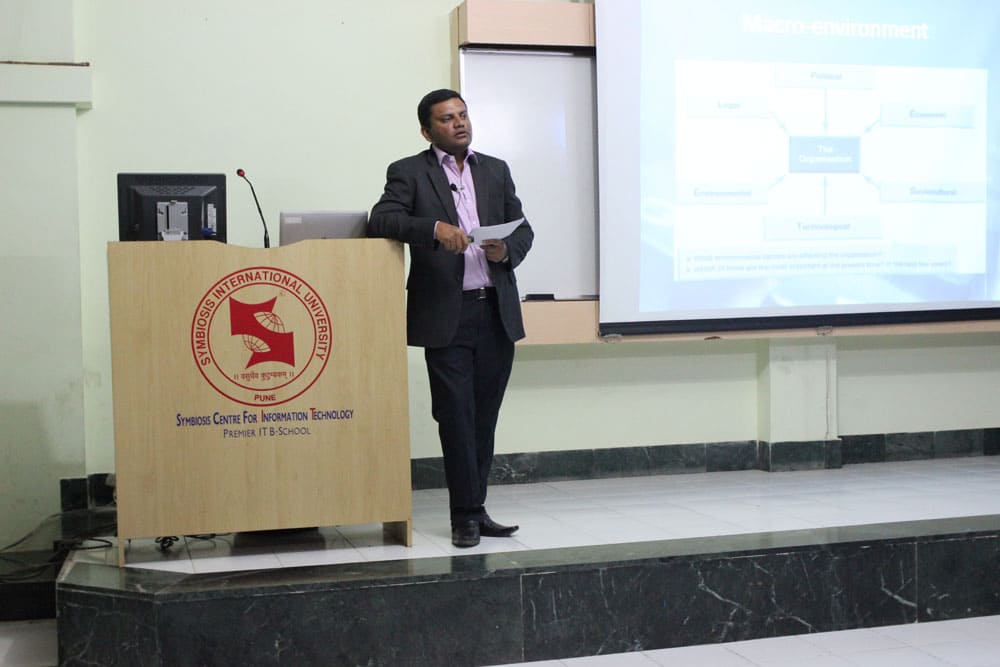 It was a Saturday evening, a tiring day too; but as always, to the students' astonishment, SCIT always has something or other in its bag to entice them. And it was none other than a Guest lecture held on the topic "Global Business Process Management Practice Trends", by a versatile industry expert, Mr. Sudeep Anil Gore, currently working with 'Maersk Group' as a 'Group Analytics Manager'. And it would be worth mentioning that SCIT was proud to bring, before its technology students, a Certified Black Belt and a Certified Lead Auditor who has been QMS-trained too.
To capture students' attention and bringing optimism to the session, Mr. Gore initiated with a wonderful gesture, by bending forward, and saying a "Namaste", and then started off with defining how Business Process Management (BPM) starts with Strategic planning process, formulating the BPM strategies and then implementing them, by playing an integral part in our daily chore. He focussed firstly on what our version is, such as setting up targets, formulating the strategies etc. and then moved on by explaining the layers of the business environment with classifying the organization at Macro environment into Political, Sociocultural, Technological, Environmental, Economic and Legal.
Even Mr. Gore stated the twelve principles of world class performance management as Strategic and Insightful; Backward and Forward; Internal and External; Single, source of truth; Cascaded through the optimization; 360-degree views; User friendly, by standardizing and visualizing to enhance insight identification; Agile and Responsive; Embedded throughout the Organization; Talk, challenge, act; Sustained and Adaptive; and Efficient and Automated. He also enlightened the students by mentioning the key factors of Performance Analysis as Performance Impact and Performance Attribution. The best part of the session was when he said that the core of BPM is – to have the right people, meeting at the right time, with the right tools, to take the right decision, based on the right data; and it is how we manage our business; from strategy to daily actions. Last but not the least, he wrapped up the session by making the students aware of the various tools used in BPM, such as Scorecards, Dashboard, Analytics, Manage by Exception Dashboard etc.
He was such a cool-headed speaker, who tried to deliver his best at a slower pace, so that the students don't find it difficult to grab the concepts. It was an amazing session for all the students, and we only hope that SCIT brings more such vibrant speakers to the institute, who can share their valuable insights on abstract topics.
Stay tuned for more such upcoming knowledgeable Guest Lectures and events…..