ISR Seminar on "Exploring Sustainable Development Goals"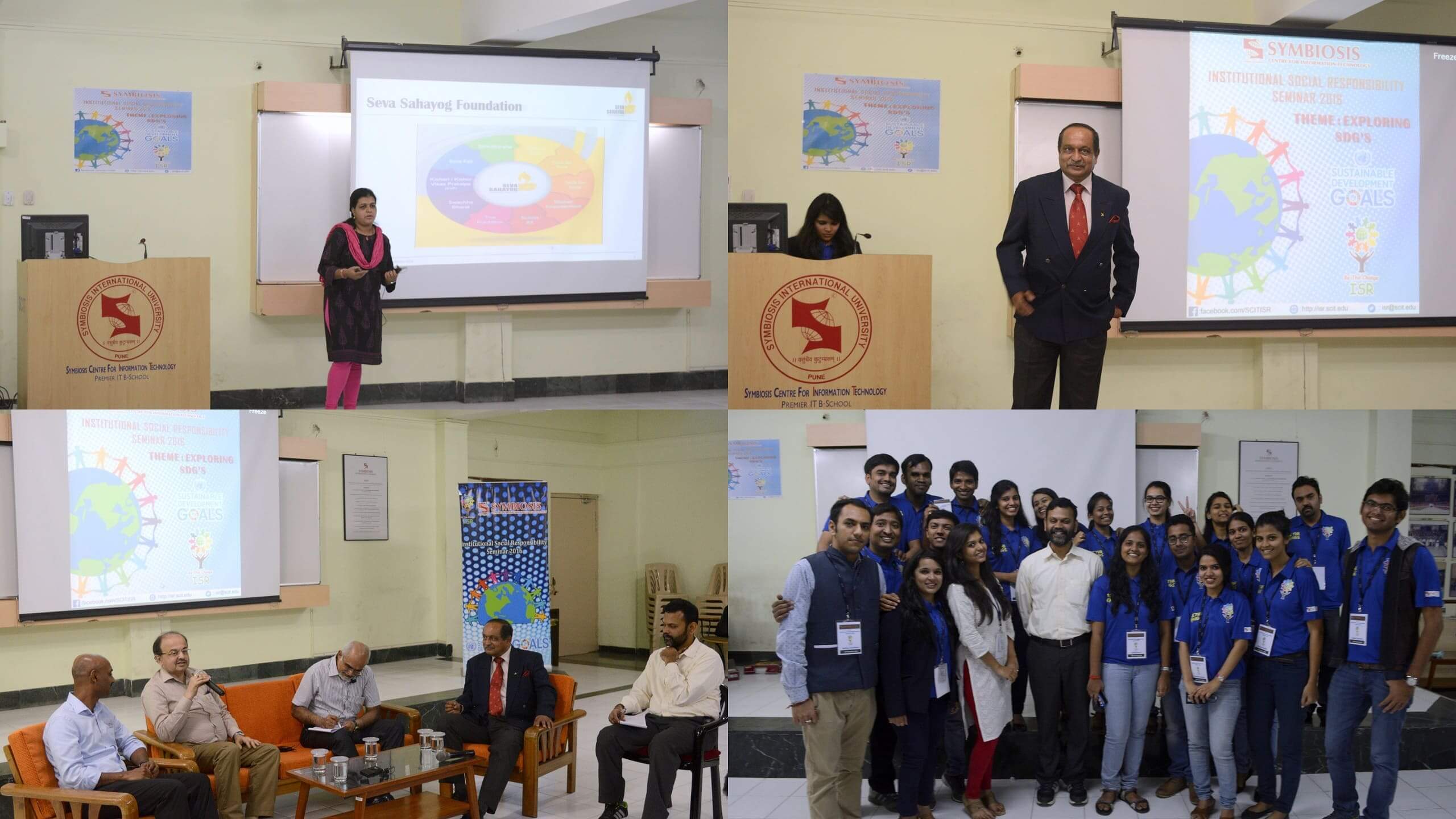 ISR organized a seminar on the topic "Exploring Sustainable Development Goals". After the lighting of lamp, Dir Dr. Dhanya Pramod began her Welcome Address on how ISR came into existence at SCIT, about it being a student initiative and on the sole notion of giving it back to the society. She also touched base on the issue of inequality and that sustainability being a continuous process. She concluded by saying all that matters is the gratitude of serving of the community. This was followed by a Welcome Note on Prof. Saravan Krishnamurthy. He believed that we could contribute more to development only if there is a shift from a pure profit oriented approach. He also spoke on the various activities that have been carried out by SCIT's ISR team like Tree plantations, marathon for a cause and assisting children in academics. There are a lot of research papers undertaken by the students by taking into the socio-technical aspects by addressing the social issues. He concluded by saying that we could secure the future by learning to prioritize the sustainability development goals.
The first speaker was Mr. Vinayak Kelkar, who spoke on recycling of waste and the recent issues of drought in the affected areas of Maharashtra.  He spoke on the various tasks carried out in building a reservoir in few villages by collaborating with NGOs and active participation from the villagers. Next up was Mr. Mangesh Kulkarni, who was involved in providing vocational training for visually impaired students. He foresaw them to be eligible tax-payers in the future. He then explained on the various certificate courses and workshops that are conducted towards serving the students.
This was followed by a panel discussion involving esteemed panellists, Prakash Rao, Kautuv Sur, Teach for India, Gurudas, Vinayak Kelkar and the moderator Dr. Sudhir Saran. Mr. Prakash began by stressing on the need for access to basic amenities for everyone and that educating everyone thereby becomes significant. While Mr. Kaustuv believed that one could build wisdom through experience and we could enable people to be equal by empowerment, Mr. Gurudas agreed with the fact that education is the only tool to eradicate poverty.
Mr. Vinayak emphasised on the usage of technology to solve challenges and for a constructive purpose wherein one could learn by actually practicing it. When the moderator, Dr. Sudhir Saran put forward on the discussion of which education serves as a necessity, the panellists believed that competitive education has been the need of the hour where closing the gap between intent, skill and knowledge is the way forward. Mr. Kaustuv spoke about inculcating values towards holistic approach to education. Mr. Prakash concluded by saying that it was important for education in itself to be sustainable.
Mrs. Radhika Kondrejkar, Seva Sahayog foundation, spoke about offering quality education and women empowerment projects by bringing together adolescent girls. She also spoke on the various projects carried out by her organization in creating the awareness. Mrs. Ambika Takalkar, Founder and Director Aarambh, spoke on the reasons and facts related to autism and on how her organization's motive was aligned to educating Austism Spectrum Disorder (ASD) affected children. She also spoke on the significance of spreading awareness to society. This was followed by Sameer Sahu's brief talk on his Happy Life foundation, where he spoke on the activities carried out in healing depression and motivating people.
On the whole, the day proved to be an interesting one with most of the students getting sufficient insights on the developmental prospects of Sustainability and on using education through technology in spreading the awareness thereby contributing to be part of the change that we are expecting the world to be.