How to Build Products the Agile Way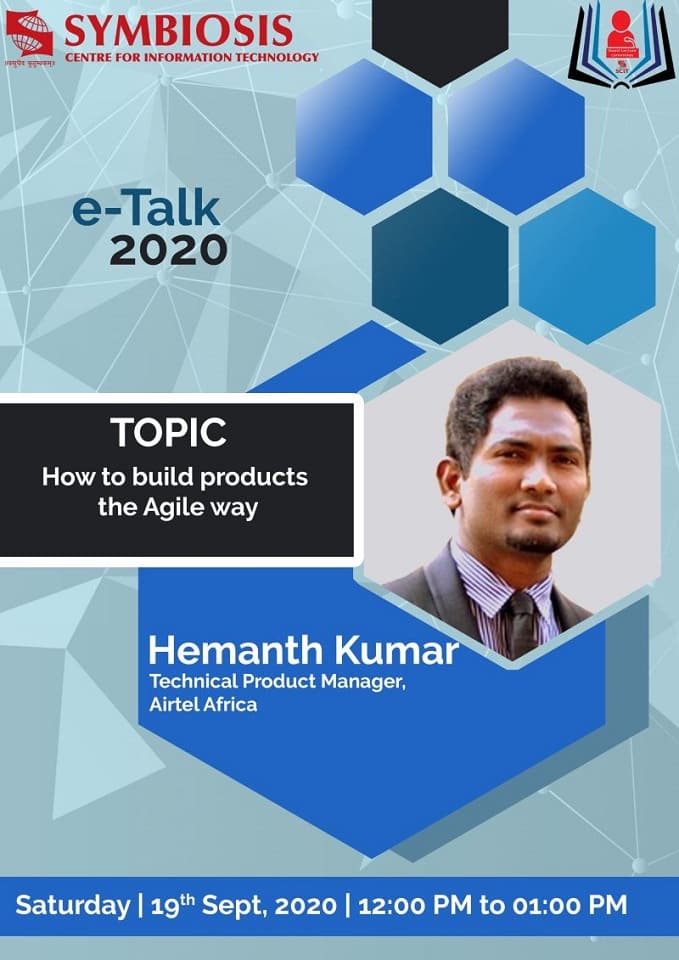 Continuing the fruitful sessions of industry experts for students. This time our guest speaker session was taken by Mr. Hemanth Kumar. He has 8+ years of rich experience in building and shipping B2C and B2B products. He is a proud alumnus of IIT Bombay and IIM Ranchi. Currently, he is working as a Technical Product Manager, Airtel Africa. He shared his insights on "How to build products the Agile way" on 19th September 2020.
Mr. Kumar told the students importance of how to be passionate about working on new challenges and solve new problems. The discussion goes on about the importance of product management. Firstly, he told students about the various points why a new or existing product fails in the market by taking the example of Nokia Mobile phones and Tata's nano car as both of them lack product definition and the right direction. After that, he told about the different roles in product management like product marketing manager, product owner, product manager and their specific responsibilities. Later he pointed out the different areas of research in product management which a company keeps in mind while launching its products. These are market research, customer, and competitor research. Also, product pricing plays a crucial role in launching a new product by keeping in mind the targeted market segment.
After that, he expressed his views on the Go to market strategy by taking the example of Uber cab service. Like how uniquely uber is a convenient, inexpensive, and safe taxi service. He told about how Uber has covered the present market with proper marketing and user acquisition.
Later in his session, he talked about the agile product roadmap. He described agile product roadmap as interesting it facilities learning and changes according to the requirements. At the end of the session, students interacted with keen interest and raised questions about various things in product management.The speaker responded to the various questions of students. Students were very enthusiastic and energetic throughout the session.