Guest lecture on Financial Planning using Mutual Funds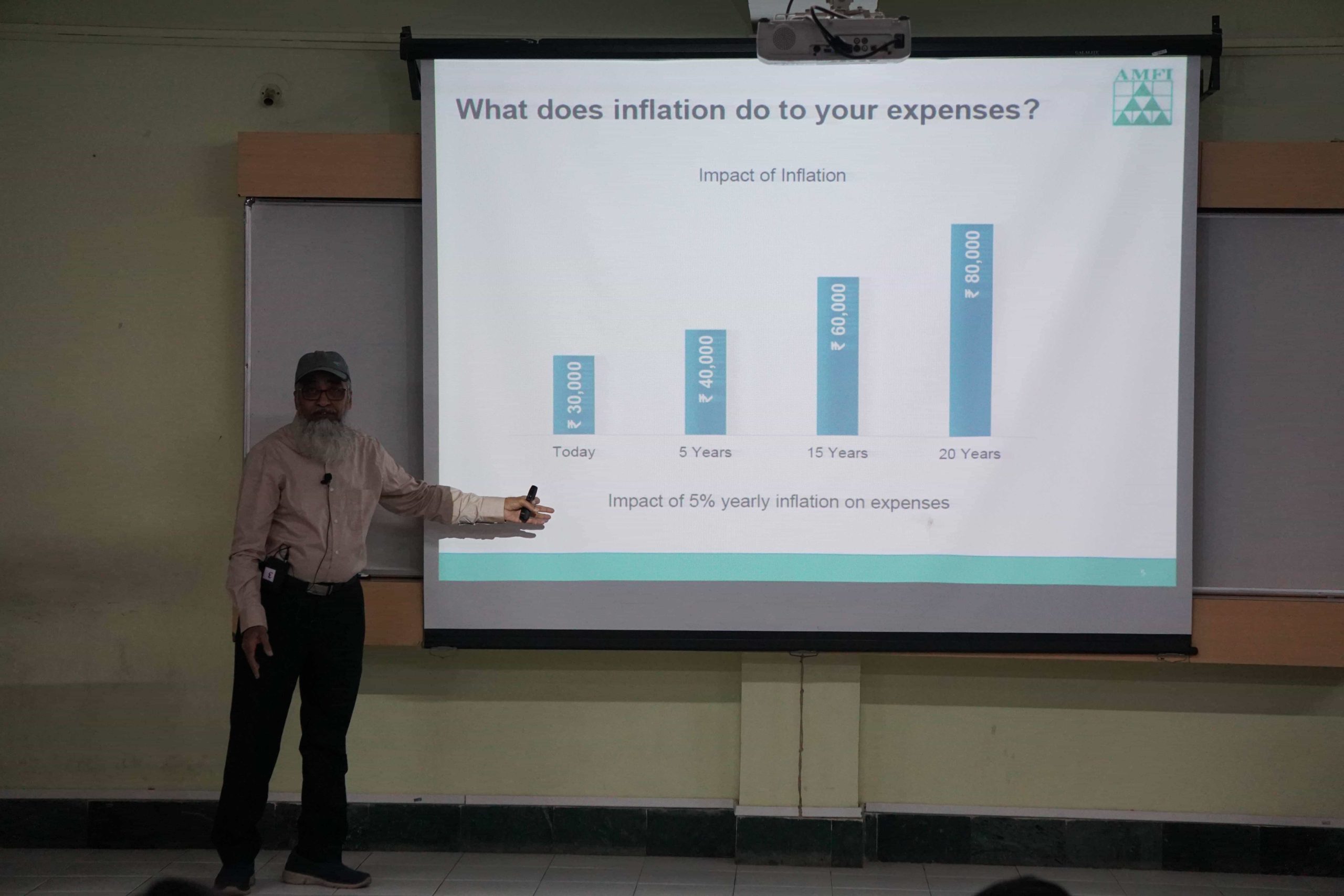 On 22nd January 2020, a guest lecture was conducted at SCIT, by Mr. Esmail Colombowala. He holds a Post Graduate degree and a Banking Certificate from London. He has over four and a half decades of work experience in the Financial IT and Training space, besides mentoring Management Students on interview and Presentation Skills.
He has been engaged with multinational companies and banks and is also an avid investor with domain expertise in the Capital Market and in-depth knowledge of Multiple Investment Products.  He has provided HUB (Back-end) training to the staff of Asia Pacific, Europe, Middle East, USA, Latin America, Canada, India, Australia, etc., Also he has provided Subject Matters Expertise (SME) to Academy developers to develop Web Base Training (WBT) on HSBC Universal Banking (HUB) & HUB Front-End (HFE's) systems.
He began with an introduction of Mutual Funds. A mutual fund is a professionally managed investment fund that pools money from many investors to purchase securities.
He gave an introduction of various financial saving instruments like bonds, PPF, etc. He also gave an introduction to equity. He explained the importance of investing early in mutual funds.
He later explained in detail about the various types of mutual funds. Primary structures of mutual funds include open-end funds, unit investment trusts, and closed-end funds. Exchange-traded funds (ETFs) are open-end funds or unit investment trusts that trade on an exchange. Some close- ended funds also resemble exchange traded funds as they are traded on stock exchanges to improve their liquidity. Mutual funds are also classified by their principal investments as money market funds, bond or fixed income funds, stock or equity funds, hybrid funds or other. Funds may also be categorized as index funds, which are passively managed funds that match the performance of an index, or actively managed funds. 
He explained that investment in mutual funds is less risky and with appropriate investment decisions one can build a large portfolio which can ensure that life after retirement can be financially independent. 
The students definitely understood that investing at a young age in mutual funds can definitely help for long term financial independence.