Green Magic Initiative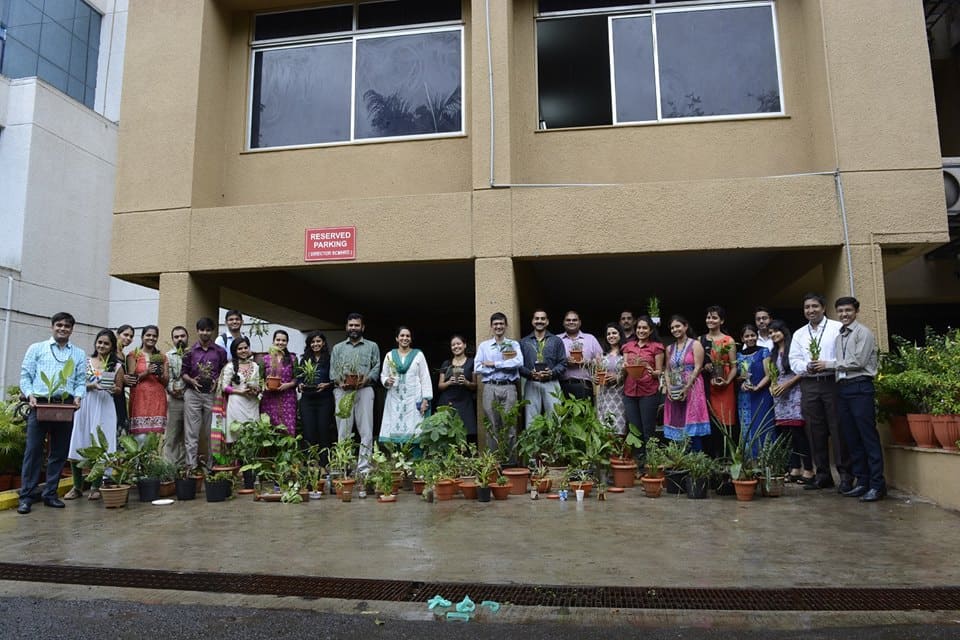 Human and humanity connect with each other as similarly as does the seed and the sapling. But do we require as many years to let our humanity out? Certainly, not. With these thoughts in mind, we were driven towards SCIT-ISR's activity 'Green Magic'.
Just as magical a work as a word. We did take an initiative to make our campus, not just outdoors, but indoors, more green, more fresh, more lively. With all the faculty member's support and guidance, along with our director, Dr. Dhanya Pramod, we managed to let the unadulterated love for the nature out. But, the idea was also about managing. Of course, belonging to the B-school has got its own benefits and the way of learning. The activity started with our faculty members, Dr. Sudhir Sharan, and Mr. Saravan Krishnamurthy, guiding us from the defects caused by global warming, to why we need to plant the trees. From how to plant a tree, to the care to be taken afterwards.
We started with around 20 people from the same class, who happened to divide the tasks in hands, while respecting everyone's interests. A few to collect funds, a few to get the seeds, a few to decide on plants and fertilizers needed. Our SCIT-ISR mentors helped us by providing good lectures on how to ground the seeds and convert it into a beautiful plant. The part that brought happiness on our faces was when we were given a plant in hands and asked to look after it for a few days. With each passing day, we saw those plants growing up. We were given a task of looking after them. We regularly went to the plants and nurtured our saplings with great care, added fertilizers to it, and saw it growing. Then, as days passed by, we saw a few with flowers blossoming on the top. Our faces had the same blossoming smiles attached to it. That feeling. That happiness. That connection.
Yes, a proverb, 'Hard work always pays off' did show the results, for the first time, in such a short span. Not to forget that, we also planted a few vegetable and fruits plants. But then, happiness and sadness shocked us just like the two sides of the same coin. As our plants grew to a specific level, we were informed by our faculty members to donate a few plants. Giving it away, sadness. Donate, happiness. The donation for turning the tide of deforestation, for providing better future to our heirs, for helping farmers restore their degraded lands. Our faculty members joined us with the plants, that we kept in their cubicle, and us with our plants from the campus, we gathered for a picture. A picture to be kept as a memory, reminding us of our efforts. With that, we ended the activity.
A small step towards the global warming was implemented successfully by all of us. But, we look forward to make our contribution towards world's betterment again with even more enthusiasm and efforts.