CSAM 2019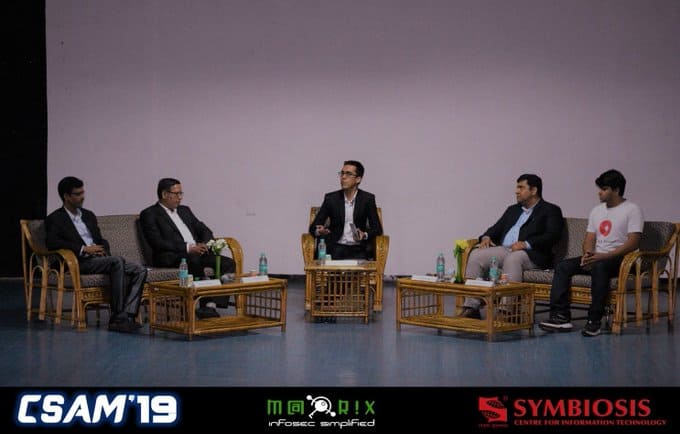 CSAM – Cyber Security Awareness Month is a grand event organized every year at Symbiosis Centre for Information Technology in association with ISACA (Information Systems Audit and Control Association). The theme of the event was Cyber MorphoSec. It was organized on 28th September 2019 and completed its ten eventful years.
The event began with the dignitaries and Dr. Dhanya Pramod lighting the lamp. The chief guest was Dr. Amarjit Singh, Chief Information Officer at Persistent Systems Ltd. He shared his valuable insights with the students on the topic of "Governance Risk Compliance" in the stream of Information Security. After his discussion, students interacted with Mr. Amarjit Singh to gain knowledge about DevSecOps implementation with respect to the current scenario in Indian Industry.
Later, Mr. Avinash Dharmadhikari, Chief Information Security Officer of Persistent Systems Ltd, interacted with students on the topic "Governance Risk Compliance – The Practitioner's Perspective"
Following the discussion, the dignitaries Mr. Rajesh, Mr. Faiz, Mr. Sambit, Mr. Sudhakar and Mr. Kushaagra took the stage. The Panel discussed on the topic " Accelerating the Security Avenues: An Indian Perspective".
The Moderator, Mr. Kushaagra Mehra, Solution Specialist at Smokescreen Technologies, initiated the panel discussion. The panelists discussed and gave their insights on audit compliance in today's world of digital technologies like Cloud Computing, Artificial Intelligence and Security by Design. The panelists also highlighted how response to breaches can be handled by way of notification and containment using structured approaches with good communication skills. The panelists clarified doubts of the students on Audit and Information security concepts.
Apart from the panel discussion, four events were also organized which saw participation from many enthusiastic participants. The four events were, Crack'O'Quiz, Capture the Flag, Crookus Captura and WaveNigma. All the events were centered around the theme of CyberMorphosec; highlighting the hybrid nature of cyber security in the modern world. Overall, the event was a grand success.