Cloud Computing: A Paradigm in Technology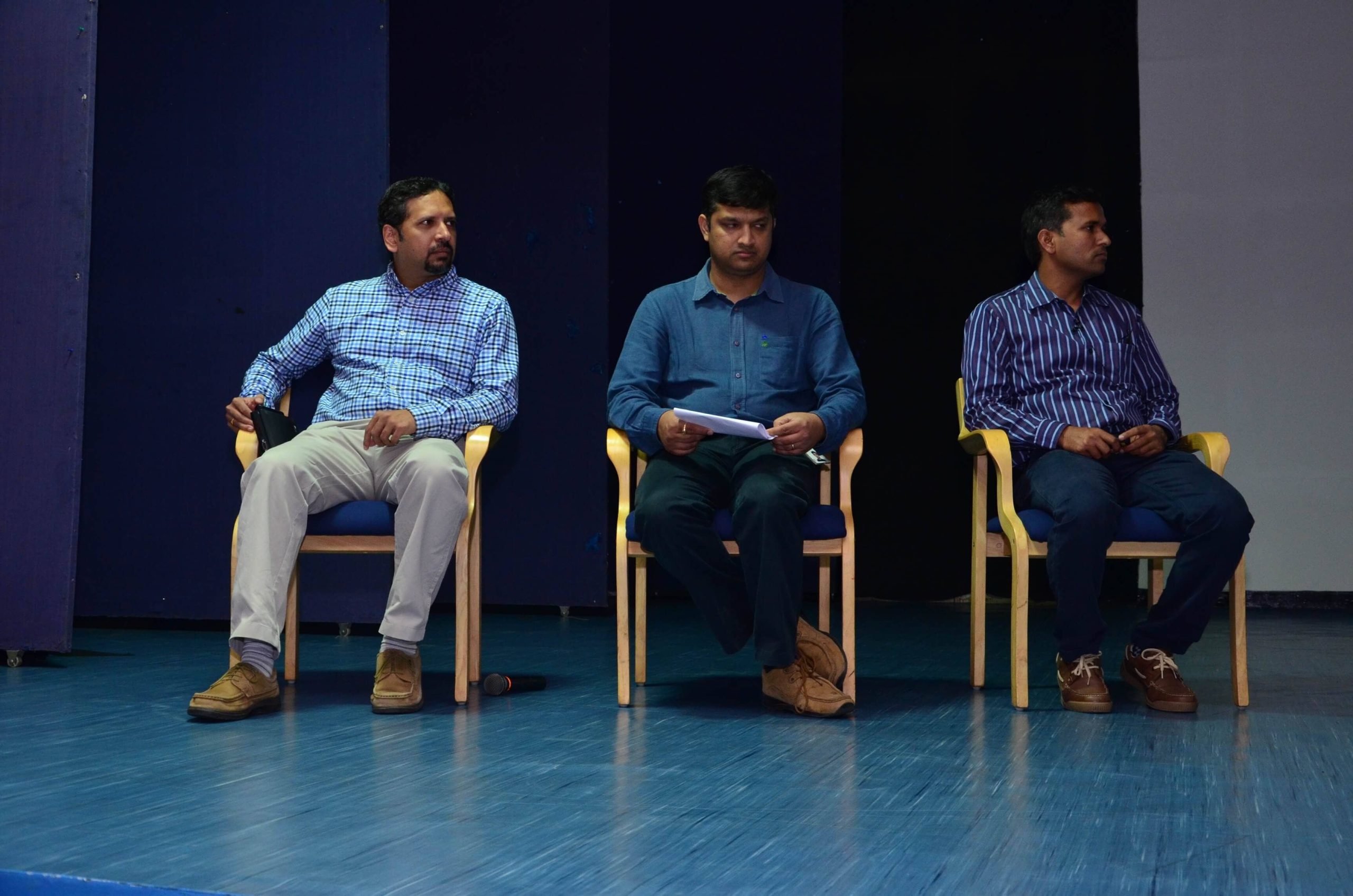 On 15th of September'2015, SCIT conducted a guest lecture on the topic "Current Trends in Cloud Computing and Virtualization for Indian organizations: A business perspective". SCIT was really glad to host such a guest lecture where three highly experienced speakers in the domains of infrastructure, automation, virtualization and storage: Mr. Anuj Chandra, Mr. Kedar Karmakar and Mr. Sandeep Zende; enlightened the Information Technology students on the recent paradigm, "Cloud Computing". This lecture commenced with Professor Anuradha Goswami and Professor Shaji Joseph, felicitating the speakers of the morning.
Mr. Sandeep Zende, initiated the lecture, by defining Cloud Computing as "Paradigm for enabling network access to a scalable and elastic pool of shareable physical or virtual resources with self service provisioning and administration on-demand." He also focussed on the key characteristics of cloud computing such as multi latency, broad network access, on-demand self-service, resource pooling, rapid elasticity and scalability; as well as benefits such as cloud computing offers higher utilization of resources, easier access, flexible pricing, requires low capital expenditure, and the machines can be integrated in a quite hassle-free manner. He also shared knowledge on three different types of cloud: Public, Private and Dynamic Hybrid; as well as four different types of standard services, which are Infrastructure-as-a-Service (IaaS), Platform-as-a-Service (PaaS), Software-as-a-Service (SaaS) and Business Process-as-a-Service (BPaaS). He stated that Public clouds are highly elastic, and offers Pay-per-use services; Private Clouds allow restricted access and are fully customizable and secured by design providing with excellent robust management.; and the Dynamic Clouds are a combination of Private and Public clouds, and provide the users with the best facilities by maximizing returns on existing IT investments and matching workloads to best-fit infrastructure. Last but not the least, he also explained the technology students, on how the organizations make use of Hybrid Clouds, by giving an example that: if in an organization, there are Production and R&D Teams, firstly the R&D Team does the prototyping on a Public cloud, and then the production is carried on the Private cloud, and these together work as a Hybrid Cloud. SharePoint, a web application platform, in the Microsoft Office server suite, is known to be implementing Hybrid cloud.
Then came Mr. Anuj Chandra on the dais, who emphasized on the security of cloud, in terms of confidentiality, integrity, availability, authentication, utility, privacy, non-repudiation and possession, and explained the students that data has to be protected while it traverses from one cloud to another, and shouldn't be corrupted or get lost in between. Even, he also mentioned multi-tenancy as the most critical aspect in cloud computing which includes firewall/edge network security and secured encrypted channels for data migration. He even interacted during the session with the students, in which he asked the three key players of migration, which were found out to be service providers, users and value-added service providers. Not only this, he also shared the process that would help banks in determining how to adopt cloud, as first doing proper selection, then prioritizing, followed by quantification and migration.
Finally, the students got to hear from the senior engineering leader with more than 20 years of experience, Mr. Kedar Karmakar, who shared his opinions on the benefits of cloud computing in banks, media and entertainment as well as retail industry. For banks, the benefits he discussed were delivering innovative mobile banking products and services to enhance competitiveness, developing speed while improving reliability and business continuity, and aggregating data from across the enterprise while improving customer insight and managing risks. He also accentuated the Media and Entertainment industry as a cost-sensitive industry, and mentioned that cloud enables the businesses to grow efficiently while expanding the range of business options in terms of business scalability, market adaptability and ecosystem connectivity. And he ended the session by providing his insights on the benefits for Retail industry, such as enhancing customer loyalty by orchestrating a rich shopping experience with reliable reviews and offering relevant product recommendations, and gaining greater insight into the behaviour of shoppers as well as using it to provide targeted campaigns along with personalized experiences.
With this, the thought-provoking session on Cloud Computing, concluded by providing the students with a deep knowledge and understanding of the topic.