Integrity and Ethics Conference 2015 at SCIT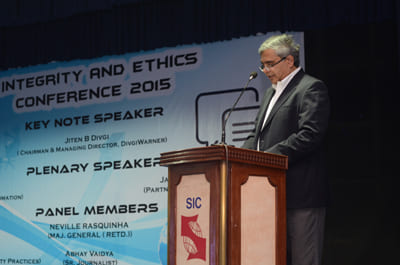 Business ethics have become increasingly important in the past several decades. We have witnessed how one wrong incident can completely overturn the fortunes of extremely educated and skilled professionals, seasoned businessmen and even established multinationals. There is a need today to internalize certain basic values that can guide individuals to do the right thing even when no one is looking.
The second edition of the Integrity and Ethics conference was successful organized at SCIT on 21st September 2015. Dr. Dhanya Pramod the Director inaugurated the function and welcomed the guests. She said that Integrity and Ethics are something that cannot be separate from personal as well as professional life. It is necessary for every student to realize its importance in daily life. Even as a student we keep encountering situations that calls for integrity on a daily basis such attending classes, cheating at the examinations, disturbing classes, manipulating bills for
committee works etc..she said that if integrity and ethics goes away from a person, there is no existence in future. Ethics, compliance, integrity are very important in any professional organization which the students will join in future.
Our key note speaker, Mr. Jitin B Divgi; Chairman and Managing Director – DivgiWarner gave a fantastic talk on integrity and how his company practices it. He said that the most difficult challenge is the ethical dilemma we will face in life. Training in ethics and integrity has become a mandate in every organization. People should have a sound knowledge and education to take up challenges environment throws on you. We are hardly in the land Mahatma Gandhi wanted us to live in. Corruption and unethical behaviors has spoilt the existence of the organization. Without integrity an organization is nothing. Integrity when present in an individual is the finest level of personal mastery.
He quoted Rabindranath Tagore's poem-
Where the mind is without fear and the head is held high
Where knowledge is free
Where the world has not been broken up into fragments
By narrow domestic walls
Where words come out from the depth of truth
Where tireless striving stretches its arms towards perfection
Where the clear stream of reason has not lost its way
Into the dreary desert sand of dead habit
Where the mind is led forward by thee
Into ever-widening thought and action
Into that heaven of freedom, my Father, let my country awake.
The two plenary speakers then took the audience to another level where they talked on what happens in the absence of ethics and also the benefits of having good ethical standards in the company. Mr. Jagdeep Singh, Partner and Director-EY found this platform an opportunity to share with the crowd what corporate ethics and integrity was. He gave various real examples of unethical behaviors of an organization and its consequences. A company loses its accreditation, repudiation, employees lose their jobs and stakeholders are affected. He spoke about companies bribing the public to sell their products and reach to the top of the market. A National Business Ethics Survey by Ethics Research Center found that when a large number of companies invest in ethics and compliance they have got impressive results.
Mr. Ajay Dhake, Vice President – Cloud Automation, OPEX Software started off by saying that building a character is more important than any other structure. Character is formed by family, friends, colleagues, society. A company's success is judged by the character of the company. He shared his experiences on ethics during his professional career. It is important to stick to the code of conduct whether we work in a small organization or large enterprise. It will help in professional as well as personal life.
The next session was a Panel Discussion about integrity and ethics .Mr. Anant Nadkarni, former VP, CSR and Sustainability, TATA Groups, was the moderator. The panelist included Abhay Vaidya (Senior Journalist), Neville Rasquinha (Maj. General (Retd.) and Biju Joseph (president Triangular Automation).
Mr. Nadkarni moved away from the conventional panel discussion and made it more of a chit chat where both panelist s and the audience interacted to create more synergy. The discussion started off by stating that, we have ethics in our blood, we just need to groom it. Ethics have been taught to us since childhood but somehow we don't practice it when we grew up. Since the panelists were from diversified fields, they all briefed about how ethics and integrity is a part of their profession and life. Ethics need not be confided to personal life, but needs to be extended to professional life as well. Being rich financially is not enough, moral richness is needed in life to sustain. We need to stand by our principles and integrity in any situation. A successful person is the one who has not compromised on his ethics to grow up in life. Ethics is something that comes from within and must be nurtured by every individual. Mr. Abhay brought to light the various ways our forth pillar of democracy the press is compromised and how various lobbies influence the news that we get. Major General Neville Rasquinha narrated some difficult situations decision making is extremely sensitive and difficult. Biju Joseph reiterated the fact the good values that we learn at home from our parents should become building bloc to our later life.
Later, the students of SCIT presented on the topic "Business Towards Sustainable Growth" which focused on how sustainability improved business. Business and technology are super powers of our time. A sustainable organisation is any organization that participates in environmentally friendly or green activities to ensure that all processes, products, and manufacturing activities adequately address current environmental concerns while maintaining a profit.
The Conference provided a unique opportunity for the participants to network with each other and share common thoughts and ideas to one of the crucial problems faced around us.
The major objectives of the Conference which it aimed to achieve were:
1. To create a platform for academicians and corporate executives who can work together towards the cause of spreading awareness on "integrity & ethics" in business
2. Ethics is knowing the difference of what is the right thing to do and doing things right.
3. Inculcate a culture of integrity and ethics among the student community who are soon going to enter the work force.
4. Increase awareness on what constitutes unethical behavior & the fine line between ethical & unethical behavior.
5. Increase awareness on implications of unethical behavior on the individual as well as the company.
The Conference ended on a positive note with a Thank You Note by Prof. Shaji Joseph who thanked the esteemed guests on behalf of SCIT.