Chennai to SCIT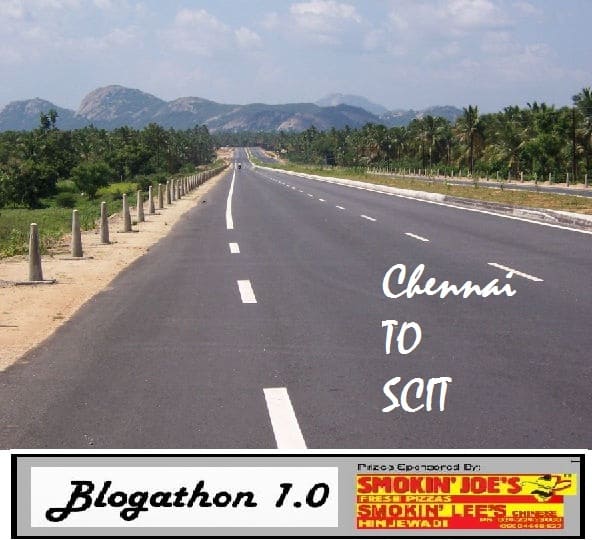 Staying in Chennai was one of the experiences I still cherish the most. There are many things you learn by experience and this is exactly how i feel about it. Now completing my MBA in SCIT a college for which i studied hard to get into during my tenure in Ambattur, Chennai. Out of many there are some special moments and places I visited which keep clicking in my mind from time to time.
Just listing a few of them for my fellow SCITians who may get a chance to work in one of the busiest metropolitan cities of our country so that they get an idea of what it is like and do not follow the false stereotyping  🙂
A: Andhra Mess – My dinner hangout on all working days. Great food on the traditional banana leaf with all kinds of rice and curries in the andhra cusine.
B: Besant Nagar Beach – A beautiful beach, cool breeze and an awesome crowd, this was the best beach i visited. The evenings here are really awesome 🙂
C: Chepauk – Amazing infrastructure and its looks beautiful under floodlights. Watched the Champions League final between Mumbai Indians and RCB with my old schoolmates. Watching a T20 game from the stands is a fantastic experience and a chance at Chepauk was brilliant.
D: Dosa's – Onion, Cut, Masala, Ghee roasts, Paper, Pudi or Plain, these were the best things you can rely on a daily basis for satisfying your hunger and taste buds.
E: Express Avenue – Had lots of fun at this huge mall. The best area was Escape cinemas, a giant 8 screen movie theater on the top floor.
F: Friends – Miss all my friends and the fun we had everyday. We were like a giant family staying together all alone in a foreign land not even understanding what the local language meant.
G: Guest house – The first 15 days in Chennai were the best because of only one reason…. the TCTS guesthouse in Mogappair. Great facilities for new joinees and we felt like we were part of something huge    😉 😀
H: House hunting – After our stay in the guest house we had to go through a drama of epic proportions to look for a decent place to live for the next couple of years. Searched scores of places, met a lot of agents and brokers and soon settled in a flat only to leave in a week's time for a new place again :-D. We had to this a couple of more times in 1 year when slowly some people got transferred back to Pune.
I: Murugan's Idli – Finally found the Murugan's idli spot on my last day in Chennai and was so fortunate to taste those yummy southern delights. This shop has truly the best idli's ever!!
J: Jaya Pushpam – Best treat ever…awesome food, drinks and ambiance
K: Kodaikanal – A cool and relaxing hill-station about a 9 hour drive from Chennai. A great place to get away from the heat in Chennai. Clicked a lot of photos with clouds in the background, huge valleys in front of us and breathtaking cliffs.
L: Legacy HBW – The first and best team in my corporate life. One of the oldest and smallest in my organization. My biggest source of learning and friendship. Awesome teamwork and always felt proud to call myself a Legacy Tx Designer 😉
M: Mahabalipuram – Another getaway is the city of Mahabalipuram. Filled with carvings and statues of rocks and marbles. Enjoyed a great trip with my friends and had a lot of fun at Kovalam beach which is also very close.
N: Nala's Appa Kadai – One of the best dish I ever ate other than the traditional idli's and dosa's – Appa Kadai. Unfortunately i got a chance to taste it only on my last day. Awesome resto in Annanagar!
O: OMG – Rajinkant fever – I was 'priveleged' to see Rajni fans dancing and worshiping their demi god at 6am in the morning FDFS outside Rakki theatre at the release of his movie ROBOT (ENDHIRAN in Tamil). Seriously, you'll never see such craze anywhere.
P: Pondi – Just any place you visit in this union territory, you will always feel the need to come again. Aurobindo ashram, Gandhi Beach, Paradise Island, Richie Rich snacks bar and of course the legacy of the French colony.
Q: Queensland – A huge amusement & theme park on the ECR. My second team outing, lots of fun rides including roller coaster, centrox, and Free fall (the highest chilling experience). Wave pool was also decent 🙂
For more just check out – http://tourthemost.com/a/32-list-of-rides-in-queensland-amusement-park-chennai.html
R: Recreation room – This place was our office for the 1st month. It was like our 1st salary we got was for playing Table Tennis. Playing carom was my favorite pastime and guys down south play like champs.
S: Summers – The worst I've experienced ever. I am really thankful those summer seasons in Chennai which made me realize how cool Pune is 😉
T: Team treats – Had a great time with my team whenever we went out for lunch @ Radha Regent
U: Unlimited travel – Never used public transport in Pune but bus transport in Chennai is great and the best part is their fare. We don't even realize how far we have traveled for a meager amount.
V: Vandalur Zoo – One of the biggest zoo's in South East Asia, a great hangout for a day.
W: Weddings – So many of my mentors got married during my stay in Chennai, attending their traditional south indian weddings and being a part of their celebration was a great experience in itself.
X: Xtra Mile – An award for my contirbution to the team's effort to churn out maximum productivity in March 2011. Proud to receive it from Mr. Dave Broady, now heading the Service Delivery function in Cable and Wireless Worldwide.
Y: Yercaud – A hill station in Salem district with a beautiful lake. Best drive ever where monkeys in the ghats inspired one of the funniest jokes.
Z: Zzzzzzzzzzz… Office timings allowed me to sleep as long as i wanted to!!! GOD i miss those days 🙂
Ashish
MBA-ITBM SCIT (2012-14)