Celebrating CSAM at SCIT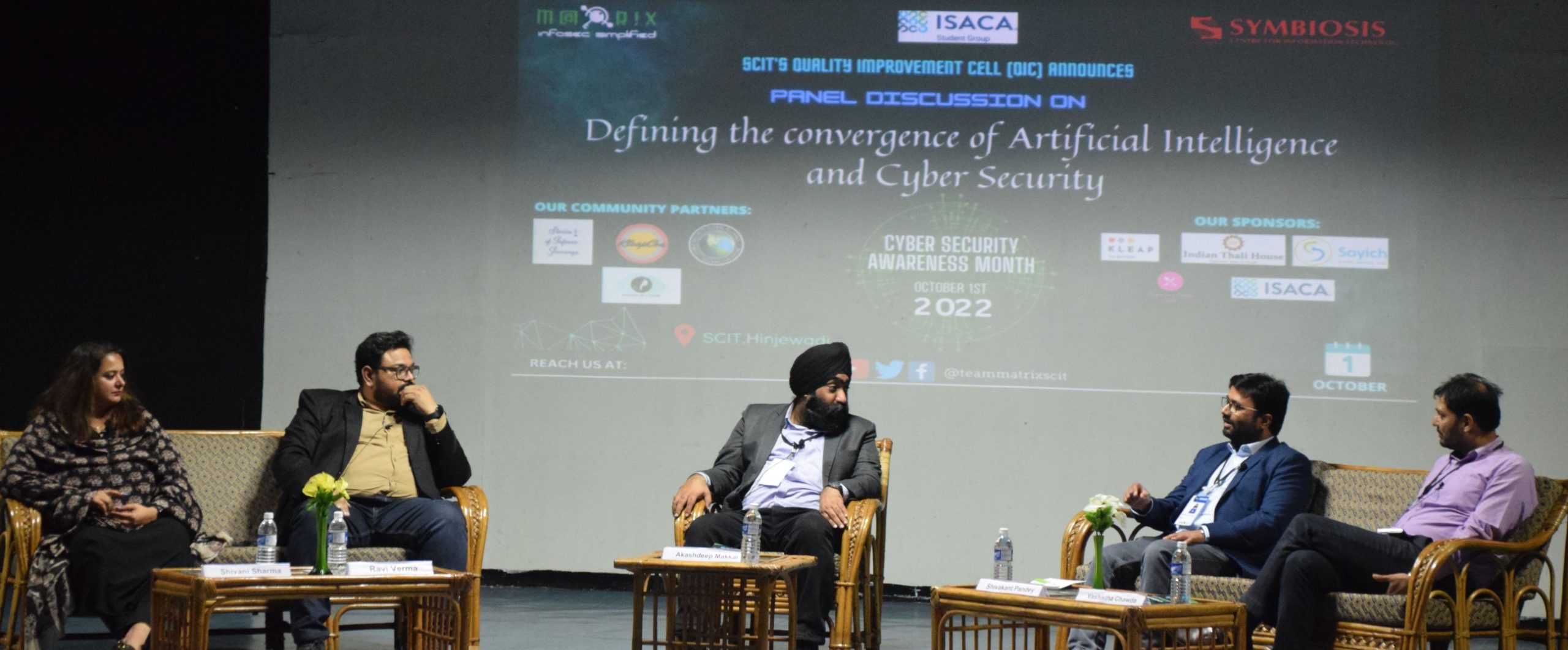 It's time to celebrate Cybersecurity Awareness Month, the biggest extravaganza event for all information security enthusiasts. The renowned event started with an introductory video defining the need for security with the evolution of technology, followed by the lighting of the lamp by our honourable director Dr Dhanya Pramod and the keynote speaker of the event, Mrs Alisha Sharma. All the speakers of the panel discussion, Mr Ravi Verma, Mrs Shivani Sharma, Mr Vashistha Chawda, and Mr Shivakant Pandey, including the keynote speaker, Mrs Alisha Sharma, and the moderator, Mr Akashdeep Singh Makkar, were welcomed by our honourable director with a token of gratitude.
"The world is evolving and data is everywhere, we must use it wisely."
The moderator initiated the panel discussion,
Mrs Alisha Sharma: She shares insights about how artificial intelligence and machine learning are capturing our everyday data and why cybersecurity protocols should be implemented to mitigate risk in day-to-day life.
Mr Ravi Verma: Being a data enthusiast, he puts forth his ideas on how data usage in our day-to-day lives should be done properly to avoid any security risks about it for the betterment of the future.
Mr Vashistha Chawda: He talks about security in digital marketing, which should be maintained by proper sanitization of data. Data patching is necessary to erode security risks that could breach the critical infrastructure of an organization.
Mrs Shivani Sharma: Being an IT security and regulatory expert, she says that we human beings are the first line of defence and a very key element in cybersecurity, and we must emphasize the necessity to learn, train ourselves, and be aware of information security to prevent personal data from getting exploited.
Mr Shivakant Pandey: As the director of Druva, the leading SaaS platform for data resilience, he provided insights into the significance of data classification and its relationship with security.
After the end of the panel discussion, different events with cybersecurity aspects were conducted in which people from different colleges participated and made the event a grand success. Starting with the flagship event Capture the Flag, in which each team must advance through various levels by using problem-solving and technical skills to outperform the other, Cyber Hunt is an interesting event based on a treasure hunt with security aspects involved in it. Swat Hats, an event inspired by Among Us. Know your threat, an event based on quizzes and games to test security acumen, Cyber Quixx, is similar to Snake & Ladder, but it adds security cognizance to it.
This marks an end to an event filled with joy and learning.