Capital Market Awareness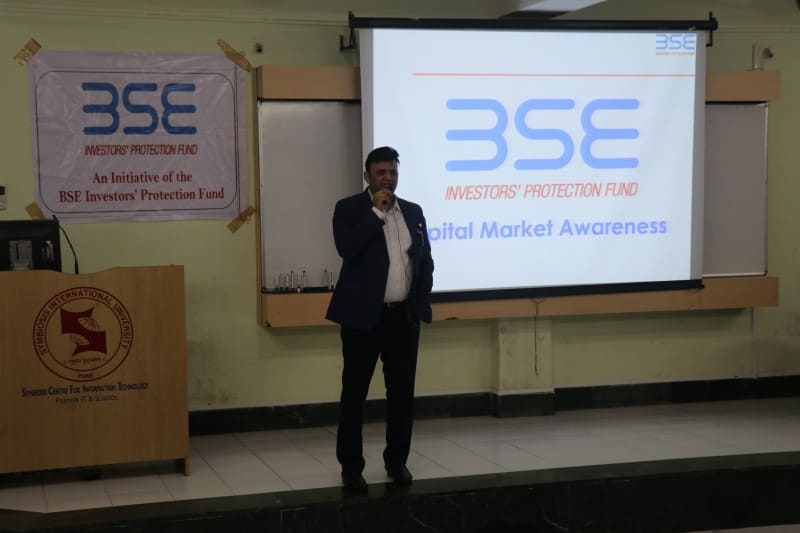 A guest lecture was organized by SCIT regarding Capital Market Awareness on 31 st August, 2018.
The speaker of the guest lecture was Mr. Sandeep Sahasrabudhe. He is the Chief Financial
Planner at Moneywise Wealth Planners, Director at Worldwide Properties Pvt Ltd, Branch Head
– FPA, Pune. His 13 years of work experience in financial planning and wealth management has
made him a specialist in the following investment products – life insurance, equity and debt
mutual funds, structured products, stocks, traditional investments and general insurance.
He started the session by giving insights about the total savings in India and its steady decline.
He told that the expenses made by every citizen should be the output remained from the
income excluding all the savings. He gave students the laymen definition of Investment; savings
which is directed towards financial goals, goals in terms of short term, middle term and long
term. He shared lot of facts about the Bombay Stock Exchange and also mentioned that the
purpose of Stock Exchange is to encourage the companies raise resources through public issues
and make buyers and sellers enter into transaction and make profit or loss.
Mr. Sahasrabudhe mentioned few points on why India is lacking participation in the Capital
Market: lack of awareness, fear of risk and no guaranteed returns. He also advised that people
should never invest in guaranteed return products. He also told that, people face loss in Stock
Market because they invest in wrong stock or invest at peak level of SENSEX, which is a trap.
In a hilarious way, the speaker told that Stock selection is as difficult as choosing life partner.
Stock should have good track record of profitability, it should possess brand image (image of
promoters), it should be loyal and trustworthy and should inform the stakeholders' for any
minor-major changes in company. He also advised the students to do individual research from
all the quality aspects of stock or depend on SIP (Systematic Investment Plan).
He ended the session by suffusing that one should have goal to achieve high money because
money is the only means which can give happiness to current generation.