e-Talk: Succeeding In Technology-Enabled Roles In The Upcoming Decade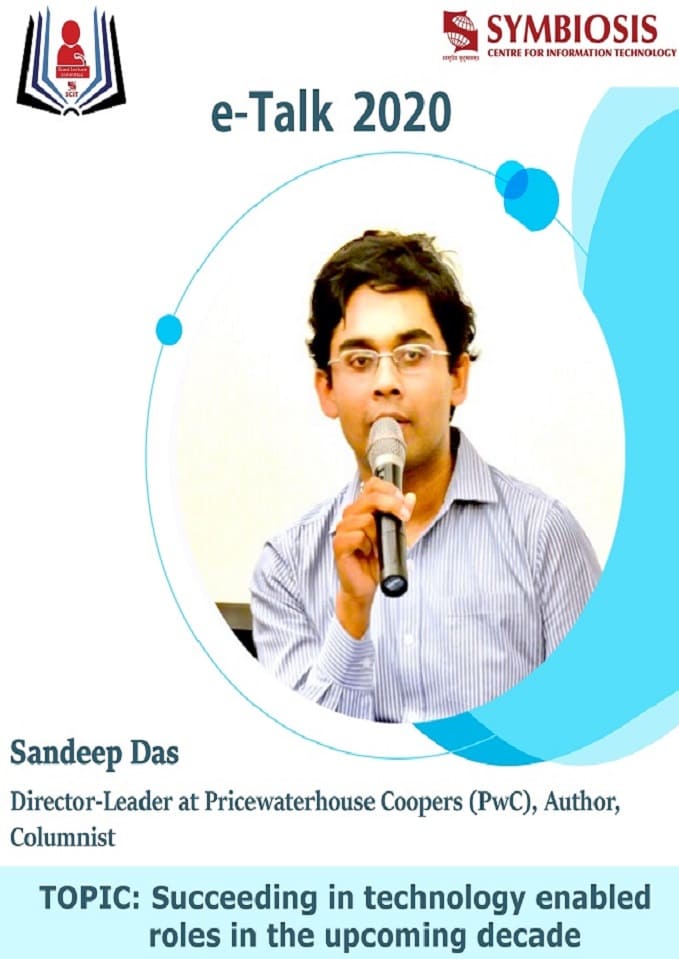 With the ever-changing technology and its trends, it is essential to stay aware of the current and potential spurts of trends in various domains and gear up for it. To enlighten the students on the same, a guest lecture was conducted on 23rd August 2020 as a part of the e-Talk Series. The guest lecturer Mr. Sandeep Das is the Director at PricewaterhouseCoopers (PwC), author of three books, and has been a speaker in more than ten business schools. He is also the columnist of almost a hundred columns, some of which are Business World, Fortune, MensXP, and Outlook Money.
The talk was focused on three main aspects, the first one being the expected changes in industries like FMCG, Consumer Electronics, Automobile, e-Commerce, etcetera. Mr. Das spoke about the changes in consumer behavior, product preferences, channel preferences, and technology. He highlighted that due to the said changes, the focus has shifted to areas like analytics, data science, cybersecurity, digital marketing, and customer experience. Along similar lines, industries like Pharmaceuticals, Agricultural products, and FMCG are on the rise whereas domains like Travel, Automobile, and Hospitality are facing a crunch right now.
The speaker then went on to talk about the trends in careers this decade. He indicated that multiple careers will be the norm and lifelong learning will be a must, owing to the changing technology. He also mentioned that financial security will be the most sought-after and risk-taking will be shunned. Incremental risk-taking will be in vogue and work-life balance will be of utmost importance in the upcoming decade.
The third and final aspect of the session zeroed in on the ways to prepare oneself in the next few years. The first and foremost tip was to not be greedy and take up only those options that don't prove to be miserable for oneself. The next course of action suggested was to invest in oneself by reading newspapers and books regularly. Moreover, the students were advised to keep their network strong by staying in touch with their seniors, batchmates, and faculties after leaving college as it might help them move forward in their careers. The final and utmost important point was financial independence and its importance and need in such trying times.
The session ended with a Question and Answer (Q&A) session where Mr. Das answered all the questions asked by the students. All in all, it was informative and helped the students to brace themselves for the upcoming trends in various industries and domains.