The Green Ganesha Challenge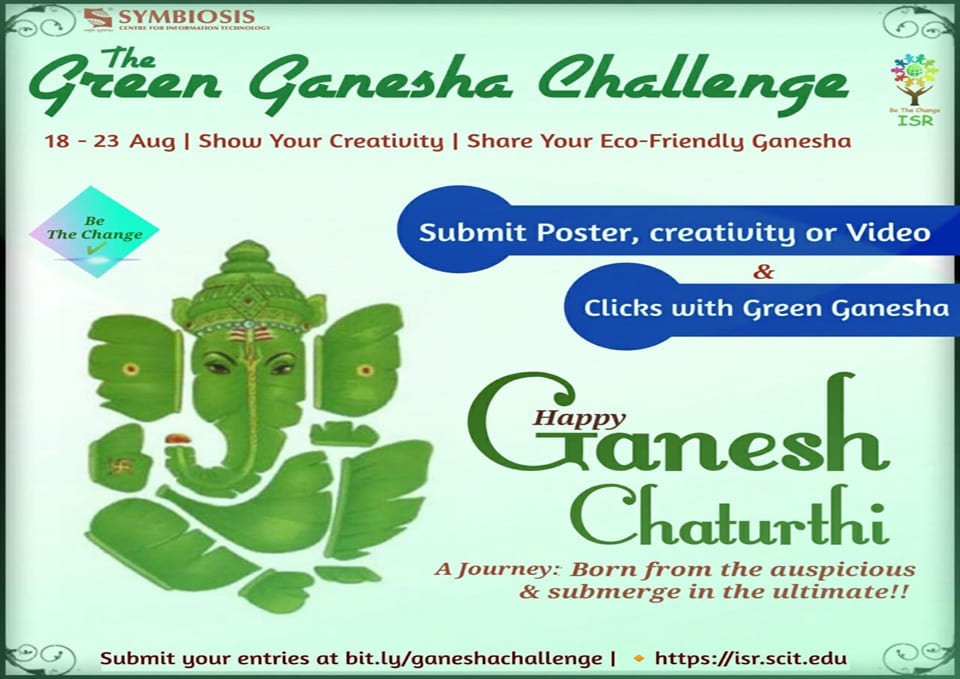 These last few months have witnessed an exasperating time while trying to the adapt "new normal", however amid everything, keeping the spirit high as always, on the auspicious occasion of Ganesha Chaturthi, abiding by environmental responsibilities,  the college had come up with an amazing way to celebrate the festival, by organizing the event called "The Green Ganesha Challenge". The theme of the event was to prepare the worshipped Lord Ganesha's idol or poster in the most environment-friendly manner. Also promoting awareness about the sustainable global environment, hence, glorifying Ganesh Chaturthi. It is carried out digitally to create awareness about the significance of using eco-friendly ways to celebrate Lord Ganesha's birthday.
Many students participated by sharing their ideas and various creative ways to celebrate Ganesha Chaturthi. The participants were given a window of five days from 18th August to 23rd August to submit their final entries where they had to submit Lord Ganesha's image or idol in the most creative and eco-friendly way possible. The students completed this challenge digitally by using eco-friendly materials such as mud, leaves, paper, organic colors, etc. for preparing Bappa's idol. The students had taken part in their areas of interest such as paintings, making idols out of dough, clay, etc. The students had this opportunity to showcase their talent digitally even by sitting at their home.
Once it was completed, they were asked to click pictures of their paintings and idols of Lord Ganesha and these were further posted on social media platforms. The overall experience of the students was immensely satisfying as it has given them a much-needed boost to look up with positivity and hope.
On a concluding note, The Green Ganesha challenge promoted positivity by eliminating negativity and was celebrated with full enthusiasm. The students accomplished their tasks and became aware of the importance of eco-friendly resources that contribute to heal mother nature as a part of their social responsibilities and shall be carried personally in the future as well. The students had a good time, by sharing their creativity while celebrating the auspicious "Ganesh Chaturthi" in an eco-friendly way.