SCIT- Award for INNOVATION IN BUILDING ACADEMIC & INDUSTRY INTERFACE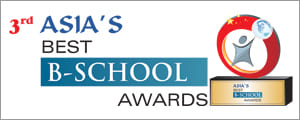 Dear All
Awards and accolades certainly gives a feel good factor for all the stake holders of an educational institution. Last year, during the end of June, CRISIL had rated SCIT's MBA( ITBM) program with an A*** at State level and A** at the National level.
This year the world education congress, CMO Asia with CMO Council as its Strategic Partner and Stars of the Industry Group as a research partner has recognized and honored SCIT.
The Asia's Best B-School Awards is presented by the world education congress and these awards of the highest stature are presented to Individuals and Institutions who have surpassed several levels of its excellence and set an example of being a role model and exemplary leadership.
I am pleased to share with you that the Jury has decided to honor "SYMBIOSIS CENTRE FOR INFORMATION TECHNOLOGY" with the award for "INNOVATION IN BUILDING ACADEMIC & INDUSTRY INTERFACE". The award consists of a trophy and a citation.
The Awards ceremony is scheduled on 19th July, 2012. at PARK ROYAL on Kitchener Road, Singapore
Dr Raman
Director – SCIT