Just a week left to meet the new batch at SCIT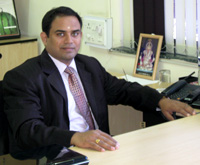 Dear All
I was travelling out of Pune met a student who was spending his summer vacation. I got into a conversation with him and was trying to know his interests. In this process I learnt that he had just 15 days left for his school to reopen. He, like any other, was fascinated to join back to school to meet his friends and teachers. I could understand his happiness was also due the new uniforms, shoes and bags etc. I was then imagining about the MBA 2011 batch joining SCIT to complete their MBA (Informational Technology Business Management) from this premier IT B School located in Pune. I believe that all those who are planning to join SCIT will also be fascinated, to meet a new group of friends in-person (possibly must have met them on social networking sites!). Some of you must be waiting to get back to strenuous academics after a stint in the corporate sector.
SCIT has planned for a fabulous induction program from 2nd June 2011 to 15th June 2011. The entire teaching and non teaching fraternity at SCIT is anxiously waiting for the semester to begin.
Just a week left to meet the new batch at SCIT.
Dr Raman
Director- SCIT