Integrity & Ethics Conference @ SCIT-A Great Success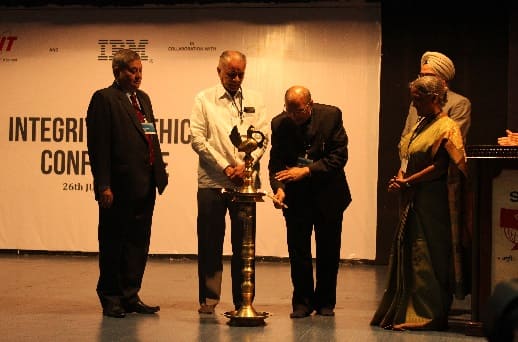 Dear All
Symbiosis Centre for Information Technology recently hosted one day Integrity and Ethics conference by joining hands with IBM and in collaboration with CAUX  initiatives of Business.
In the inaugural session we had eminent speakers sharing their views on Business ethics and its relevance in the Indian scenario followed by plenary sessions, which gave an insight into how business houses and academia perceive ethics, values, and integrity. We had the gracious presence of Dr. S.B Mujumdar, Hon'ble Chancellor , Symbiosis as the Chief Guest and his words of wisdom and how he preaches ethics in real life has inspired many who attended the same. The keynote speaker Mr.Kishor Chaukar, Chairman, Tata business support services shared his experiences and role of ethics and values while dealing with various stakeholders of business. Dr.Deepak Phatak, Professor,dept of comp.science IITMumbai has shared his views on ethics in Academics.
We also had Dr.Rajani Gupte, VC , SIU, Ms.Desiree Giler Mann, TCO, IBM as the plenary speakers who gave wonderful insights into ethical dilemmas and practices. In addition to this we  had eminent speakers for the afternoon Mr.Anil Chopra, VP, SCM, Siemens, Mr.Dilpreet Singh, VP & Head HR, IBM India/South Asia and Mr.T.P Mukharjee from CIB.
We witnessed ideas emerging out of the deliberations in the break-out sessions which essentially focused on ethics awareness and how to take up the challenges in building a culture of integrity and ethics.This was steered by panel of members from industry and SCIT faculty members(Prof.Sarvan Krishnamurthi, Prof.Muazzam Khan, Dr.Sudhir Sharan, Prof.Shaji Joseph). SCIT students actively participated in the panel discussions.
Overall the conference was well appreciated by delegates from Industry, students and faculty members. Undoubtedly this event was another historic moment at SCIT and Prof.Shaji Joseph faculty member-SCIT and Mr.Mezzan Dallas, University Relations Leader ,IBM India deserves appreciation for their untiring efforts.
Cheers!
Dr.Dhanya Pramod