Blogathan 1.0 a great start !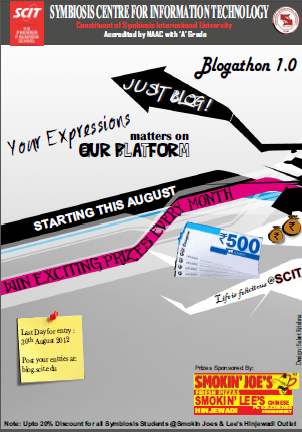 Dear All
I always wanted the students to blog their experiences at blog.scit.edu. Today I find that Blogathan 1.0 has made articles to flood student's blog. Web and Media team (2012-2014 batch), the members including Gaurav Thorat,Tauseef Shaikh,Saket Krishna, Naveen titare, Mayur Pawar, Ragini Kashyap under the guidance from Ms. Savitha Nair have done a commendable job!
Blogging makes many students realize how high the bar of public domain writing is. This can be initially intimidating for some, but that removes all apathy or sense of humdrum. The breadth of articles has certainly impressed me. Blogging is certainly a powerful stimulating and enriching experience. It is certainly more powerful and substantially easier way to share experiences with the entire world, than collecting and recording the experiences in lcass based set up which restricts the knowledge and experience sharing to the borders of the classroom.
I must mention the efforts of some students  namely- Adhith, Ankan saha, Manas Choudhary, Varun Mahangare,Nitin Saxena, Pratik Beedkar, Suchet Pajni, Komal Krishnamraju, who along with the Web and Media team who made Blogathan 1.0 – a blogging contest exclusively for SCIT students – a reality. Keep it up dudes!
Dr R Raman
Director – SCIT