An insight into Data Analytics & additional benefits at SCIT.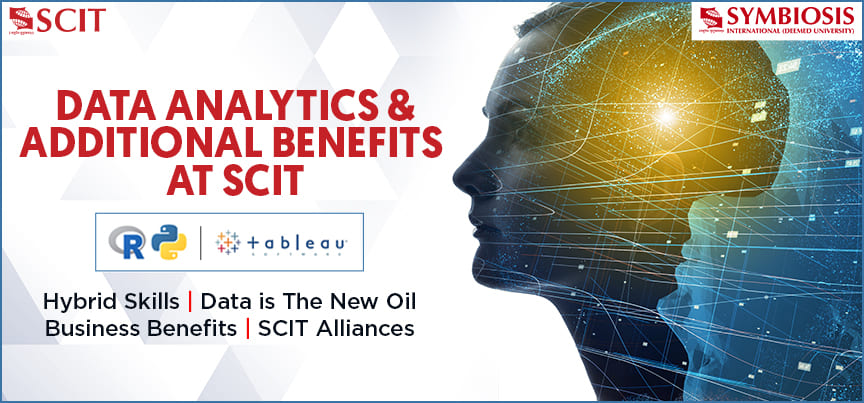 The rapidly evolving IT world is getting introduced with advanced training programs and certifications every day. Many people have repeatedly resorted to gaining in-depth exposure and knowledge in their respective areas of expertise. Data Analytics is a vital domain in today's data-driven business world. Additional training and certifications related to Data Analytics or Data Science play a chief role in an individual's personal as well as professional growth. By integrating parts of business management with parts of modern-day skills like data analytics & data science, the hybridization of jobs penetrates through almost all industries currently.
Most of the progressive organizations across various industries are searching for candidates with hybrid skills. A professional or an aspirant taking these training programs gains thorough apprehension on the tool, its purpose, and its functioning; this is also an accurate method to test one's existing knowledge & understanding of the given field. In terms of excellent work opportunities in the Information Technology industry, proficiency in Data Analytics tools leverage a professional's skill sets, as all organizations want certified and qualified personnel to add more value to their business. There are a couple of advantages these tools will guarantee in your professional life as a candidate adept with data analytics tools is always an asset to the organization; this skill set promises challenging projects and work opportunities, enhanced professional credibility, increased earning potential and a lot more.
Data never ceases to exist, and with the mounting demand of useful information and insights, the Data Analytics and Data Science field have attracted a lot of attention from employers as well as from IT Business Management professionals & aspirants. Businesses have made an immense profit by optimizing their processes through recorded information. Data Analytics is now a popular field to be a part of because it has fulfilled the foundational goal of many organizations, which is stable operational efficiency. Through Data Analytics tools, the daily raw data of a company gets tracked and analyzed, and accordingly, the errors and inefficiency areas get highlighted. These tools also help the company fetch risk management solutions which creates profuse space for an organization to plan its growth and development for the future. Service level performances have improved from before, customer value has seen a significant rise, overall costs of a company have reduced, advertising has taken an advanced and effective turn, and reaching the target market has become so much easier, all with the advent of data science. Some of the most preferred and renowned tools in the Data Analytics industry are R, Python, and Tableau.
R is an open analysis tool, and this language is broadly used for statistical computing and graphics. This tool offers an interface for various databases like spreadsheets and SQL. Accenture, Cognizant, Google, Facebook, Citibank, and MuSigma are some of the top companies using this tool.
Python is quite famous amongst the programmers and coders, particularly because this language is comparatively easy to learn and understand. Object-oriented programming, functional programming, structured programming patterns are all supported by Python. This tool can carry out various jobs, like data mining, website construction, etc. all through one language. Many big companies like TCS, Alibaba, Cognizant, and Genpact use Python.
Tableau is a commercial analytics tool and is used for bifurcating the data and creating visualizations and dashboards. Data visualization is an extremely important part of business data analytics; a balanced combination of exquisite elements like colors, labels, dimensions, etc. create visual masterpieces, and, accordingly unleash business insights which help an organization to plan ahead and make informed and wise decisions. Barclays, Ogilvy, LA Times, Ashok Leyland, and Dell are some of the most eminent companies using this tool.
Symbiosis Centre for Information Technology recognizes the climbing need for Data Science & Analytics tools and therefore aims to foster authentic IT talent and to create smart professionals with an innovative mind. A distinctive blend of technology and business, which is what data science is prevalently about, is offered under the Systems specialization at Symbiosis Centre For Information Technology. This program creates professionals who can comprehend extensive business requirements and can come up with effective solutions to fulfill the same. The industry-driven course structure includes topics like enterprise resource planning, service-oriented architecture, enterprise performance management, process optimization, and more. Process Optimization, Functional Consultancy, ERP planning and implementation, Requirements Engineering, Quality Management, Business Process Management, Business Development, Business Analysis, Lean, Six Sigma, Process Consultant are some of the prospective job profiles for this specialization. SCIT also offers SAP training where an individual learns about its modules.
SAP means Systems Applications & Products in data processing. The training program has various modules and a robust training program. The eligibility criteria differ for each module; some of the modules can be taken up even by fresh graduates, and some of them are particularly available for professionals with relevant domain experience. SAP training acts as a career partner for growing professionals since its advantages are beneficial for the long term and can take a career or a profile to the next level. Updated skills, improved individual performance, module specializations and diverse skill set development, huge & challenging opportunities, and augmented career growth are some of the most remarkable advantages of SAP training.
For more than a decade now, Symbiosis Centre for Information Technology (A constituent of Symbiosis International University) has remained a leading institute in the area of Information Technology Business Management. As we're a pioneer institute for quality IT management education, we promote value-based, industry-centric, pragmatic learning and strive to nurture global competency within our students. For any queries related to the institute, the course and specialisations offered, or anything else, you can get in touch with us!
Dr.Dhanya